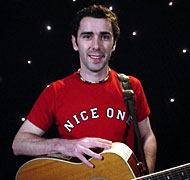 Much water has passed under the bridge since charmer Mickey Harte stood on stage and sang for Ireland with We've Got The World Tonight at the 2003 Eurovision Song Contest in Riga. The artist has shown a marked development since then and has just recently treated Americans to his own brand of pop-rock.
Mickey Harte got his big break following his participation in the You're A Star reality talent series in 2003. Since then, he has worked hard at proving himself as a bona fide musician, distancing himself from the usual fate that beholds most winners of such series (one hit and ensuing obscurity), and rather building himself a solid reputation as a credible live performer.
Harte recently set off an a pub and club circuit tour of the US, stopping off at a number of renowned venues. His summer tour kicked off in Boston at the Mr. Dooley's venue on the 28th of June, after which he appeared on a radio show, during a 3 hour slot on the Gashouse Radio Show in Philadelhpia on the 29th. Another successful gig was held at the Green Parrot in Newport, Philadelphia on the 30th of June, before Harte took on the Big Apple, with a performance at the Scratcher venue along with a host of other Irish musicians. He guested the IOTA Club in Arlington, Virginia on the 2nd of July before playing three gigs in Durham, North Carolina as part of the Festival for the Eno on the 4th, 7th and 8th of July.
Following the success of his stateside sojourn, hard working Harte is not one to rest on his laurels, with dates planned throughout the summer in his native Ireland to promote the release of his upcoming album Forward to Reality, due for release on the 14th of September. Irish fans need not fret, his first gig back on home soil will already be this weekend, Friday the 13th of July at The Palace, Navan. His remaining confirmed dates are as follows:
04.08. Court Yard Hotel, Leixlip, Co. Kildare
05.08. Feile Lios Poil, Lispole, Co. Kerry
24.08. Cox's Bar, Castlebar, Co. Mayo (charity event)
01.09. Keane's Bar, Athenry, Co. Galway
Keep your eyes peeled for the release of his forthcoming album Forward to Reality on September the 14th.
A recent video of Harte in action at Dicey's in Dublin can be watched below: