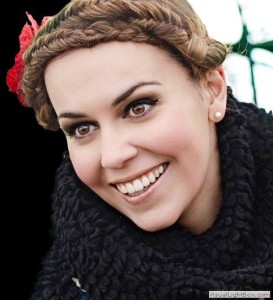 Tonight, Bosnia & Herzegovina representative Maya Sar presented her participating song, Korake ti Znam, with a special programme where a number of guests also made an appearance. In the meantime, the official video of this ballad entry was also released.
As with many countries this year, the Bosnian broadcaster BHRT went internal as in previous years and announced Maya Sar, who had the experience of the Eurovision Song Contest last year with Dino Merlin, as the representative of this country at the song contest this year. Later,
Maya announced the title of her participating entry with a press conference.
Today's song presentation took place in the Hotel Sarajevo tonight in Bosnia & Herzegovina. The show was broadcast live by BHRT via its web and satellite; also eurovision.tv had the webstream via ESCTV.  
In the show, we were also able to hear duets and solo performances from famous friends of Maya Sar: Maya and Sabahudin-Baho Kurt opened the show together, singing What a Wonderful World and Djevojko Mala. 2004 Bosnian representative, Deen, who achieved 9th placing with the song In The Disco in İstanbul, performed Fly Me To The Moon and 2007 representative Marija Šestić performed Samo jednom se ljubi. Tonight's star, Maya Sar, also performed Kraj Potaka Bistra Vode which had traditional elements, unlike her participating entry.
Maya Sar finally presented her participating entry, Karoke ti Znam, to the public, and then the official video was shown. The song was arranged by Maya's husband Mahir Sarihodžić and then Italian maestro Adriano Pennino gave the latest shape to this entry which is a pure ballad with popular modern music elements.
Below you can watch the official video of Maya Sar's entry Korake ti Znam. Bosnia & Herzegovina will participate in the second semi-final of 2012 Eurovision Song Contest in Baku on May 24th.