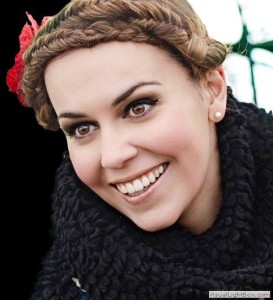 Maya Sar, the Bosnian hope for the 57th edition of the Eurovision Song Contest, has published The Steps I Know, the English version of Korake ti Znam.
Korake ti Znam, the entry that will be performed by Maya Sar, and was written by her under her official name, Maja Sarihodžić, has already got an English version. The Steps I Know is the chosen title for the English version of the ballad that will represent the Balkan state, which has always qualified for the final. Maya Sar has previous experience in Eurovision as she was a backing vocalist for the Bosnian team achieving a 6th position with Dino Merlin and Love in Rewind last year in Düsseldorf.
This year, Bosnia Herzegovina will compete in the second semi-final, which will take place on the 24th of May. Maya will have to compete among seventeen other countries fighting for a place of the final of the European song contest, which will take place on the 26th of May in Baku's Crystal hall. The former Yugoslav republic will try to obtain a final ticket in a semi-final in which most of the Balkan states will take part, with the exception of Montenegro.
Bosnia & Herzegovina had its premiere on the Eurovision Song Contest back in 1993 with Fazla performing Sva Bol Svijeta ranking 16th. The Balkan republic has ranked six times in the top 10, with Hari Mata Hari achieving its highest  placing, 3rd position in Athens 2006.
You can listen The Steps I Know on the link below.