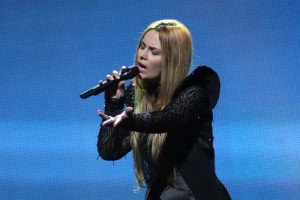 Did Maya Sar manage to impress with her classic perfomance on the second rehearsal?
Almost nothing has been changed since Maya's first rehearsal. Meanwhile we have to submit that Maya's perfomance was very classic. Her black sparkling outfit matched well the black piano on the stage.
The background was black with just a glimpse of light on her face while she was playing the piano. As she stopped playing piano the whole stage filled with red and she stood up singing louder peforming great vocal as well.
As she was singing the second time, some technical problems happened on the stage so she had to restart her perfomance. Even if the song wasn't in English you could understand by the whole perfomance that it's about love.