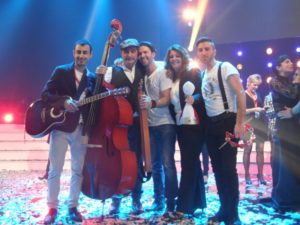 A revamped version of the Maltese entry was released to the press during a launching event that took place last night in Malta's hub to entertainment. Last month Firelight won the right to represent the country at the 2014 Eurovision Song Contest.
The new version of Coming Home was performed for the first time by Firelight during a launch of the Maltese Eurovision version. Firelight who originally were five members had one member leaving the group and another two joining in to make the band consisting of six artists now. The two who joined are Daniel and Wayne who are siblings of Richard (lead singer and writer of the song) and Michelle (keyboard player). Wayne was also a competitor in this year's national selection.
The work on the revamped version was done by Arturo Pellegrini and Maurizio Campo who took care of the sound engineering during the Maltese national final. The new version was recorded in a new studio by Manolito Galea and Elton Zarb. The latter is one of the writers of the Maltese winning entry at the 2013 Junior Eurovision Song Contest, The Start, performed by Gaia Cauchi.
Meanwhile soon after the launch, Firelight spoke to EuroVisionary about the preparations ahead. About the work on the new version they explained that they gave a modern touch of the song which was originally recorded in Richard's bedroom. The lead singer of the group explained that the lyric video will be released on Wednesday and the preview clip will be out soon. The Maltese hopefuls said that they are looking forward towards their participation in Copenhagen and though they are following who their competitors are, the group is focused on their challenge in May.
You might also want to read:
Watch the interview and snippets of Firelight's performance of the new version while in the second video you can listen the Maltese revamped version.