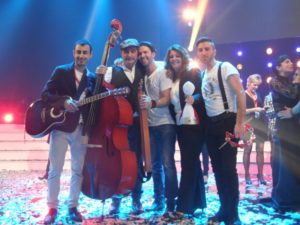 Within 24 hours Malta picked 14 songs for the final by throwing six entries home last night – and now a final winner has been found. Firelight will be aiming for yet another Maltese Eurovision victory after the country recently won the Junior Eurovision Song Contest.
The national broadcaster on Malta, PBS, recieved a total of 210 entries for their 2014 Eurovision selection. They were first narrowed down to 70 and then to the 20 we saw in yesterday's semi-final. 14 continued to the final tonight – and one final winner has now been found, the lucky one to represent Malta at this year's Eurovision Song Contest to be held in the Danish capital, Copenhagen in May. 
Malta had problems with its webstream during the semi-final, and it was even worse tonight, but strangly enough never during the many advers, only the show itself. In the beginning it was bareable, but as soon as the Swedish heat was over, it had a significantly bad effect on this stream indicating that capacity was way too low. That was simply not good enough, Malta.  
The songs: (You can read more about the participants in our Get To Know article)
If you want to read more about the songs itself and the performances please check our semi-final coverage from last night. In order not to repeat ourselves we will instead judge the Eurovision potential of each song, should they be the winner. We will try to judge as objective as possible, but of course it will only be a guess as at the Eurovision Song Contest (almost) anything can happen.
1. Christabelle Borg – Love Tricity (Magnus Kaxe and Gerard James Borg)
The first song has a chorus easy to sing a long to, but the song itself is not strong enough – something a long the lines of I Love Belarus. It might just make it to the final based on some TV viewers, but it will be tight and probably without a chance of any good placements in the final should it be lucky to go through.  
2. Wayne William – Some Kind Of Wonderful (Wayne Micallef)
Here we have a singa-songwriter style which do tend to perform better as many countries can relate to it, and the juries will appriciate it as well. This should stand a good chance of making it to the final, and a likely placement around 10- 12th position.   
3. Davinia Pace – Brand New Day (Elton Zarb and Muxu)
This one is quite sweet and she performs it well. The song itself is not strong, but if she gets her act right and flirt with the camera instead of the audience, she would make it to the Eurovision Song Contest final without a doubt. It makes you think a bit of Germany's winner Lena Meyer-Landrut, although it will not do that well in the final.
4. Ryan Paul Abela – City Lady (Paul Abela, Ryan Abela and Joe Julian Farrugia)
The song is pleasant enough, but we are 35 years too late for this. I quite like it, but it will struggle to reach the final in the Eurovision Song Contest, should Malta pick this one, I am afraid. 
5. Franklin Calleja – Love Will Take Me Home (Glen Vella, Beatrice Eriksson, Marcus Frenell and Michael James Down)
Songs like this should always qualify to the final, unless of course there are too many of a similar kind in the same semi. It lacks the last bit in becoming a strong contender for a top placement in the final though, which is a shame as they were on the right track here.
6. Daniel Testa – One Last Ride (Stephen Rudden and Lawrence Peter Bridge)
Speaking of being on the right track, that I believe they are here. This should be a sure qualifier and a potential top 10 entry. It is not a technically complicated song, but it is catchy and offers a good mix of old and new, and should appeal to both jury and televoters. It is easy to sing a long to, and a tune you remember.
7. Sophie Debattista – Let The Sunshine In (Sophie Debattista, Lou Mullen, Adam Pakard and Alexander Dew)
I can't see who should vote for this one, and as such I have to conclude that I don't see this qualifying to the Eurovision final. Picking this entry, Malta will probably be left in the final.   
8. Chris Grech – Oblivion (Philip Vella, Chris Grech and Gerard James Borg)
This is one hard to judge. It is a fantastic song and he has a very good voice, but Chris' charisma is the problem here. He doesn't quite connect with TV viewers nor the audience, which is a shame. He needs to show some attitude if he wants to reach the a high placement of the Eurovision Song Contest, but the potential is there songwise    
9. Deborah C. – Until We Meet Again (Elton Zarb and Muxu)
An updated version of this '80's Scandi pop song, which works quite well. It will no doubt appeal to the Scandinavian countries, and maybe more than that. Deborah C will make it to the final and her placement there can be anything between top 5 to last five. It has potential to reach the top, certainly.  
10. Jessika Muscat – Hypnotica (Philip Vella and Jessica Muscat) 
Here we have a modern song, which could potentially become somewhat of a favourite like Norway's entry from 2013. I am not too crazy about it myself, but nor was I about the Norwegian one, but it will reach the final and most likely also end up in top 10. Here Malta have the song that can do well, but it will be against my will.     
11. Pamela – Take Me (Boris Cezek)
This song can maybe on a good day reach the final, but that is simply because not too many will be elmininated this year. In the final however it will most likely not reach the best half.
12. Firelight – Coming Home (Richard Micallef)
Anyone who thinks of the Icelandic Coming Home song from 2011? I certainly can't help thinking of that with a smile when I hear this. This doesn't have the same qualities though, which is a shame. It should probably reach the final, but not easily, and unfortunately I am not sure it will be anywhere near the best half.
13. Amber – Because I Have You (Paul Geordimaina and Fleur Balzan)
A simple nice ballad which most will like, and very few dislike, will usually make it to the final – and as such this appear not to be in danger of being left in the final. Once it is there, question is how many will love it enough to directly vote for it instead of the other songs? It is lacking a bit in being a potential winner, but a placement around 12-18 in the finsal is likely.  
14. DeBee – Pin The Middle (Peter Paul Galea and Debbie Stivala) 
This song, which is the last in the Maltese final, is special. It stands out and certainly has it moments, but it is also a bit too repetive, which makes you think it might be too boring. If however they can come up with something which can keep the viewers attention then they might be on to something. A final entry, yes, and then it depends on the performance how it does in the final.  
The show: 
Just as with the semi-final yesterday, tonight's show was hosted by two former Eurovision Song Contest participants; Ira Losco and Gianluca Bezzina and TV host Moira Delia. Ira represented Malta in 2002 where she gave her country their very first second placement with the big fanfavourite song 7th Wonder. Gianluca's Eurovision memories are a little fresher as it was just last year where he came 8th with the song Tomorrow.
During the song Ira and Gianluca entertained the audience several times, also in duets which was quite pleasant so maybe that should be thought of for Eurovision at some point? At some point in the entertainment however it took the unfortunate turn that it became too much of a Gianluca concert, which was a big shame. Although when he started singing Tomorrow, I admit it was all forgotten. 
The show, which started at 20:45 CET, was opened by Gaia Cauchi, Malta's very own darling, who won the 2013 Junior Eurovision Song Contest just a few months ago. Tonight she had a big childrens choir behind her, all wearing pink rain coats. Gaia herself was in a white dress. 
Tonight's show also featured Sebalter, who just a week ago was selected to represent Switzerland this year. He performed his entry Hunter Of Stars showing the Maltese what they will be up against once the competition kicks in. Both Malta and Switzerland have been drawn into the second semi-final. 
Yesterday, in the semi-final, last year's winner, Danish Emmelie de Forest performing Only Teardrops. Tonight she was back in order to premiere Rainmaker, which will be the official theme song for the Eurovision Song Contest in Copenhagen in May. She was joined on stage by the 14 Maltese finalists. The song is written by Emmelie herself together with Jakob Schack Glæsner and Fredrik Sonefors. Jakob also happens to be Emmelie's boyfriend.
There was technical problems in the beginning of the song, but finally we got to hear Rainmaker, a song we will soon get to hear a lot more. It is a great song definetely, but not that big sing along song which might be expected from a Eurovision theme song which will see all Eurovision finalists on stage singing along to it. 
The voting:
Malta picked its winner in a combination of jury and televoting. For the announcement Gianluca and Ira had moved to the greenroom. All points were given in Eurovision style 1-8, 10 and 12.
The televoters prefered Jessika who got their 12 points. The jury members each gave their points and they were not quite in angrement making it hard to predict the winner.
Eventually we had a winner: Firelight with the song Coming Home.   
Malta at the Eurovision Song Contest: 
The Mediterranean Island, Malta saw its debut at the Eurovision Song Contest in 1971, but after three participations up until 1975, it would take many years before they returned. That happened in 1991 where Georgina & Paul Giordimaina came sixth and since that they have not missed a single year.
No victories, but two second placements, and also twice coming third, that is what Malta has to brag about at the Eurovision Song Contest. Since the introduction of semi-finals 10 years ago they have missed out on the final four times. 

You might also like to see:
Pictures from the Maltese selection can be found on EuroVisionary's Instagram profile. 
Video: 2014 Malta Eurovision Song Contest: Clips from the 14 qualifiers
Video: 2014 Malta Eurovision Song Contest – Reactions from the 14 qualifiers