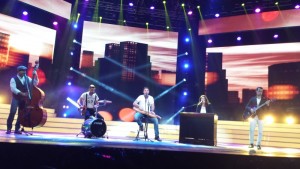 This evening was held the semi-final of the Maltese national selection. In a very entertaining and lengthy show of three hours, the judges and the audience eventually decided which fourteen out of twenty songs went through to tomorrow's final.
This weekend we will know who will represent the island nation at the upcoming Eurovision Song Contest and this evening was held the semi-final of the popular Maltese national selection where, besides enjoying an awesome show, we have heard many great songs.
Twenty acts, among them many familiar faces from previous editions of the Maltese selection, were competing for one of the fourteen tickets to tomorrow's final. To read more about the twenty participants you can check out our Get To Know article.
The songs:
1. Amber – Because I Have You (Paul Geordimaina and Fleur Balzan)
It is a pleasant piano ballad but too generic. She has a very nice voice and her performance was vocally flawless but the song is more of what we have heard many times. It is very simple melodically and keeps the same tone from the beginning to the end which takes away the emotion that a ballad like this should have. She wore a long sleeved black dress with a side slit and a huge golden necklace with matching earrings and bracelet. She was accompanied by a piano player who was on the right of the stage. Maybe with some work it could become a strong ballad but, as it has been performed this evening, is not worthy to claim victory.
2. Chris Grech – Oblivion (Philip Vella, Chris Grech and Gerard James Borg)
It starts like a ballad but after the first verse it actually develops a rock feel. The acoustic piano in this song creates a soft environment for the beginning of the lead vocals and then the guitars and drums slowly build up to the chorus dropping back again for the next verse. He has a very versatile voice which is perfect for the song and was able to reach the higher notes in the chorus with a very nice use of harmonies. The harmony added to his vocals towards the end of the song was beautiful. He was dressed very casually, wearing faded jeans and a grey t-shirt with some stars stamped upon it. The images on the screens were waves and bubbles in dark blue colour with red flash lights.
3. Romina Mamo – Addictive (Linda Persson and Ylva Persson)
This pop song can be lyrically questionable and it lacks a hook to be memorable enough but the solid production and Romina's voice make up for any shortcomings the song may have. The combination of string work and Romina's voice  blend very well. She sang really good and her natural warmth is the key ingredient to the song's success. She wore a beautiful dress with silver sequins which gave her an impressive style for such a special occasion. She was accompanied by two male backing dancers who wore silver vests and black trousers. The stage was lit in dark blue and purple.
4. Jessica Muscat – Hypnotica (Philip Vella and Jessica Muscat)
In some places this unstoppable club tune is very reminiscent of Euphoria. It is relatively simplistic in structure, very commercial, and can become repetitive and dull after hearing several times. Her voice not only gains your attention when she is quietly singing the verses but she also has the sheer power to soar above the dance beats during the chorus. She was dressed in a very creative style wearing a stunning asymmetrical white dress. With her on stage were three male dancers. They wore black leather trousers and they were bare-chested. Over their chests, they had kind of a black spiral painted which was also extended across their faces.
5. Andreana Debattista – Now And Forever (Vinny Vella and Karl Spiteri)
That was another classic piano ballad but what was most compelling about this song is how well Andreana's powerful and emotionally charged voice really shone through the music. Her voice is husky and strong yet sweet and mournfully fragile. She wore a long turquoise strapless neckline dress with some sparkly crystal beads, a simple design that is both classic and stunning. She sang the whole song from the center stage and she was accompanied by a piano player who was to her right. The backdrop seemed to be full of stars.
6. Daniel Testa – One Last Ride (Stephen Rudden and Lawrence Peter Bridge)
This song definitely has a radio-potential quite suitable for Eurovision. It has a memorable chorus and it is full of energy. The drums in the chorus give the sound an oriental touch that is catchy enough to appeal to a larger audience. He has a nice voice that fits very well with the music. He wore a dark grey chequered jacket and light brown trousers. He was accompanied by three backing dancers dressed in grey and back, two men and a woman, with a very energetic choreography. The images on the LED screens were black and yellow while the steps of the stage were lit in blue.
7. Raquel Galdes – Invisible (Philip Vella and Gerard James Borg)
This is a great ballad but the tone of the song seems to be too high for her vocal range and does not fit her especially in the high notes when she has to use the falsetto. Anyway, she was sublime. She has a very recognizable voice and a good stage presence. She was wearing a light green short dress and the images shown on the screens were green trees at first which then became bubbles on a blue background. On the right side of the stage was a man dressed in black sitting on a box during the whole performance. Towards the end of the song, Raquel sat in the box and then he left.
8. Fabrizio Faniello – Just No Place Like Home (Johan Bejerholm)
Former Maltese Eurovision representative Fabrizio Faniello is back to the national selection. Needless to say, he has extensive experience, a very nice voice and a great stage presence that rarely disappoints. His song is a pop ballad, very emotional, that starts slow but grows after the first chorus. One could say it has been tailor made for Eurovision. He wore a black shirt, dark grey vest and red trousers. The stage was lit in dark blue and orange images appeared on the screens resembling fire. On stage there were several suitcases on a white carpet. He began his performance sitting on one of the suitcases and then moved to center stage where he remained during the whole performance returning to sit on top of the suitcase at the end.
9. Wayne William – Some Kind Of Wonderful (Wayne Micallef)
It is a decent pop ballad with good lyrics and a pleasant melody but it was not memorable as it had nothing to stand out. He sang really well, and that could be heard especially in the acoustic parts of the song. He wore a black jacket, white shirt and jeans. On each side were two guitarists (a woman to his right who was also the backing singer and a man to his left) and behind him was the drummer. The stage was lit in red and yellow with white flash lights and the screen images were red bubbles on a black background.
10. Ryan Paul Abela – City Lady (Paul Abela, Ryan Abela and Joe Julian Farrugia)
This song has a retro feeling from the sound of the disco songs from the 70's that makes it totally different from what we have heard so far but a little outdated. Anyway, it is an energetic song, has a good sing-a-long melody and, despite the verses are not very strong, the chorus is quite catchy. Vocally it does not require so much effort but he did pretty well. He wore a red suit (matching the stage lighting) and a black shirt. He was playing guitar during his performance. On stage there was also a drummer, a guitarist and two female dancers who also played the trumpet. In the screens we could see silhouettes of women dancing to the music in black, white and red colours.
11. Christabelle Borg – Love Tricity (Magnus Kaxe and Gerard James Borg)
The sound of this song is more modern than most of the entries we have listened to so far. After a slow first verse it builds nicely into a pop dance song but the chorus is unspectacular melodically, and the hook is not strong enough for it to stand out. Christabelle had a very good attitude on stage and she wore a red jacket over a black dress. She was accompanied by four backing dancers who performed an original choreography with metal structures. The images on the LED screens were storm rays and hearts on a dark blue backdrop.
12. Pamela – Take Me (Boris Cezek)
She has a really nice voice, very special when singing low tones, which fits very well the folky Celtic style of this ballad. The song builds really well and it has a lovely flowing melody which is arranged impeccably. She wore a white lace dress with sleeves off-shoulder and a black belt with a crown of flowers on her head. The stage was very dark during the verses with only a few flashes of white light and during the choruses the screens were filled with sunny landscapes with trees.
13. Sophie Debattista – Let The Sunshine In (Sophie Debattista, Lou Mullen, Adam Pakard and Alexander Dew)
This is a nice song but it needs anything else to be great even though it sounds very commercial. The guitar playing was very clear and strong and the melody has the power to evoke memories. Her voice is quite average but tender and emotive. She wore a black fur jacket, a leopard print shirt and a tight black leather trousers. She was at the center of the stage playing guitar and to her left were four musicians, two men playing guitar and drum box, and two women who, besides being the backing singers, were playing the keyboard and tambourine.
14. Franklin Calleja – Love Will Take Me Home (Glen Vella, Beatrice Eriksson, Marcus Frenell and Michael James Down)
He is a good performer and listening to him is a big pleasure. It is a pretty song, there is no denying it, and his voice is perfect for this kind of ballad but it might be forgotten among so many similar songs. Anyway, this song has an epic feel that may score well. He wore a light blue suit and he was accompanied by four backing singers, two men and two women who were dressed very smart all in white. The stage lighting was dark blue and the steps were lit in purple.
15. Miriam Christine – Safe (Marc Scicluna and Emil Calleja Bayliss)
An excellent piano introduction sets the mood for this lovely and inspirational ballad whose outstanding feature is its memorable chorus. The instrumentation was flawless as well as the vocals. She has a great voice with a good range. She wore a black dress with silver embroidery and lace sleeves. The floor was full of smoke and the stage lighting was predominantly dark blue and purple with several white spot lights which pointed directly at the center of the stage where she was.
16. Deborah C. – Until We Meet Again (Elton Zarb and Muxu)
This song is very upbeat, happy and light hearted. It has a catchy beat, very radio friendly and very easy to listen to. The vocal performance was not perfect, but her staging was brilliant. She wore a shiny maroon dress and she was accompanied on stage by three male musicians playing wind instruments while performed a simple but effective choreography. They were on the right area of the stage and halfway the song they joined Deborah in the center stage.
17. Fire Light – Coming Home (Richard Micallef)
We continued with the first and only band of the evening. This song has a very good energy and that good vibe is also among them. It is a really good song that one can really imagine in Eurovision. They have great voices which blend really well. We must highlight the extraordinary vocal range from the only female member of the band. The five members of the band were dressed in casual clothes with blue jeans and black and white jackets and t-shirts. They all were playing traditional instruments. The double bass player was placed on the left to the stage and to his left was the drummer. On the center stage, one of the main singers of the band was playing a traditional string instrument, to his left was the only female member playing keyboard and alongside her was the guitar player. In the screens we could see images reminiscent of a drive.
18. DeBee – Pin The Middle (Peter Paul Galea and Debbie Stivala)
This song has a pretty unique sound. It is reminiscent of a catchy cabaret song but it also has a country feel. She has a smoothly smoky voice which is easily recognizable. She wore a light brown flowing dress with a belt matching the sleeves of her dress in dark brown leather. There were only women on stage. To her right were two backing singers and to her left were a guitar player and a violinist. The stage was lit in green and in the screens we could see images of nature such as butterflies, flowers or blue skies.
19. Davinia Pace – Brand New Day (Elton Zarb and Muxu)
This upbeat song has a great chorus hook which makes it instantly likeable. She has a nice voice and a very good energy on stage with great rapport with the audience. She was alone on stage wearing a short black dress. The screen images were very colourful and the stage was lit in purple and pink.
20. Corazon – Ten (Paul Geordimaina and Fleur Balzan)
And finally, another generic ballad with a delicate arrangement paced by acoustic guitar and discreet percussion in the chorus. Her voice was good but a little bit weak at times although this was not noticed much thanks to the great work of the backing vocalists. She wore a black leather jacket, a red shirt and black trousers with sequins. With her on stage were four musicians, three of them were playing guitar and one of them was playing the keyboard. The screen images were black and blue and the stairs of the stage were lit in light green.
The show: (You can find some pictures of the show on EuroVisionary's Instagram)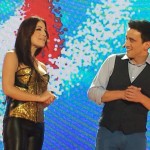 It was a spectacular show which started at 20:45 CET live from the Malta Fairs and Convention Centre in Ta' Qali. It was hosted by former Eurovision representatives Ira Losco and Gianluca Bezzina and the tv presenter Moira Delia.
The show started with a video of tonight's hopefuls singing some of the songs that have represented Malta at the Eurovision Song Contest in previous years followed by the live performance of Gianluca Bezzina singing his Eurovision entry Tomorrow in a duet with Ira Losco. The stage was huge. It was rectangular and it was multilevel with some lighted steps in the back. It was full of lights and the backdrop was made of big LED screens.
A large number of special guests had been invited to perform at the Maltese national selection and Emmelie de Forest, the Danish winner of the 2013 Eurovision Song Contest, performed her winning entry Only Teardrops as part of the opening act. The staging, the camera angles and the images on the screens were very similar to that we all remember from Malmö including the flute player. She wore a grey dress and was barefoot.
Before each performance we could see a video of each of the artists promoting Malta's capital, Valletta, and then, back to the arena, some pictures and the name of the next singer on stage were showed for a few seconds on the LED screens.
The televoting opened right after the last song was performed and it was closed fifteen minutes later.
Gianluca and Ira were back on stage during the interval act performing in a duet some versions of popular songs like Fever or Passenger's hit Let Her Go. Ira was also performing alone her single What I'd Give.
Matthew James Borg and Peter Borg, from the Maltese rock pop band Red
Electrick and the local pop alternative rock band The Crowns also
performed during the interval act. 
Another guest of the show was Maria Yaremchuk who will be representing Ukraine at the upcoming Eurovision Song Contest. She performed her entry called Tick Tock.
The results:
The fourteen finalists were determined by the votes of a panel made of six judges and televoting whose outcome would count as the votes of a seventh judge.
The acts which proceeded to tomorrow's final were: Daniel Testa, Pamela, Amber, Sophie Debattista, Jessica Muscat, Franklin Calleja, Chris Grech, Christabelle Borg, Wayne William, Ryan Paul Abela, Deborah C., Davinia Pace, Fire Light and DeBee.
The Malta Eurovision Song Contest final will take place tomorrow Saturday and it will broadcasted live by TVM from 20:45 CET.
Malta at the Eurovision Song Contest:
The island nation of Malta first participated at the Eurovision Song Contest in 1971 and has yet to win the contest. They have had their ups and downs having achieved some great results finishing as runners up in 2002 and 2005 and in third place in 1992 and 1998 but, in recent years, Malta finished last in 2006 and failed to qualify for the final in 2007, 2008, 2010 and 2011. Gianluca Bezzina made it to the final last year with his upbeat song Tomorrow finishing in eighth place.