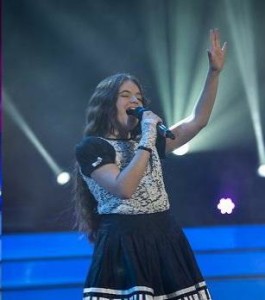 Gaia Cauchi won the 2013 Junior Eurovision Song Contest for Malta with The Start. Gaia has premiered a dance remix of her winning song at the 2014 MMAs (Malta Music Awards), where she also won the International Achievement Award.
Gaia Cauchi was born in 2002 and she has already achieved much success at home and abroad. Even before Junior Eurovision she has been popular in Italy where she appeared on the tv show, Ti Lascio Una Canzone. At nine years old she won the San Remo Junior Music Festival with her interpretation of One Night Only from the movie Dreamgirls.
In 2013 she was selected to represent Malta at the Junior Eurovision Song Contest with The Start composed by Gaia herself with Matt Muxu, Elton Zarb & Gillian Attard. Gaia took Europe by storm and took the victory in Kiev. Her sensational vocals and stage performance won the hearts of many.
Now Gaia has released a dance remix of The Start. She performed the song for the first time at the prestigious MMAs (Malta Music Awards) held one day after the 2014 Malta Eurosong at the MFCC in Ta'Qali.
Gaia was also a winner at the MMAs where she won the International Achievement Award for her big succcess at Junior Eurovision. 
You can see Gaia perform the dance remix of The Start below.
You may also like to read –
Firelight win the Maltese Eurovision ticket with Coming Home 
Video interview: EuroVisionary talks to Emmelie de Forest and Firelight