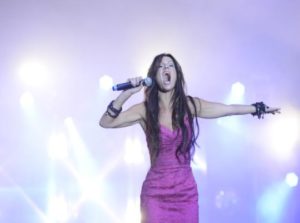 Lena Philipsson was once one of the biggest stars on the Swedish pop galaxy. But in the time leading up to the announcement of the break up with her husband Per Holknekt, the star lost her sparkle and became something of a hermit. But fear not, because she is back, bold as brass, as attendees to this year's Pride event in Stockholm can confirm.
Lena Philipsson has become one of Sweden's most popular stars, thanks to her 4 entries in Melodifestivalen: the evergreen Kärleken Är Evig (Forever Love) in 1986, Dansa i Neon (Dancing in Neon) in 1987, Om Igen (Starting Over), coming in so close in 1988 and finally succeeding in 2004 with Det Gör Ont (It Hurts). She seemed to have recaptured her crown as the princess of Swedish pop before things went into a downward spiral, culminating in the announcement of her divorce to long time husband Per Holknekt in June.
Following their separation, the star quickly withdrew from the limelight, cancelling amongst other things an appearance at a Tomas Ledin tribute as well as a TV appearance. Despite singing this year's Stockholm Pride theme song Du Följer Väl Med?, the star failed to put in an appearance at the opening, and even cancelled a scheduled meet and greet, leaving many fans disappointed.
Like the trooper she is however, Philipsson has shown she is made of stronger stuff and is now showing signs of defiance and that she has managed to put the traumatic separation behind her. She did turn up in the end, giving a triumphant, explosive performance to rapturous applause. Hopefully Philipsson now has her sights firmly set on the future and will take comfort in the support of her many devoted fans. You can see a live performance (not from Pride) of her latest hit below:
Links