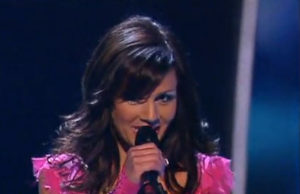 Carola is not the only big name to be currently holding concerts – Lena Philipsson, or Lena Ph as she is more affectionately known, has just kicked off a string of concerts as part of the 25 year anniversary celebrations of her career. And by all accounts, her show is an unmittigated success, with plenty of action, humour and a string of hits.

Lena Ph first got her major breakthrough when she stood on stage in 1986 and belted out Kärleken Är Evig at Melodifestivalen, in an outfit made by herself. In her own words, the star is guilty of serial crimes against fashion, but she merely laughs and shrugs off the thought, apparently unabashed by her dubious costume choices in the early years. Following her debut, she quickly gained a taste for more and made numerous attempts at winning Melodifestivalen, with songs such as Om Igen and Dansa INeon, which although not winners, went on to become huge hits in her homeland and propelled the young singer to stardom. It wasn't until 2004 and her collaboration with singer/songwriter Orup that she finally
succeded in singing for her country with Det Gör Ont, which in many ways, gave her career something of a revival.
And of course fans are treated to all of these hits in addition to many more during Lena Ph's show, which reportedly lasts for 1 hours and 40 minutes and has critics falling over themselves, showering her show with praise and superlatives. The singer attracted attention for the suggestive use of her microphone stand in Istanbul – this is also used as a prop during her performance of Det Gör Ont, only now the stand is four metres high! The star has also been receiving rave reviews for her interaction with the audience and for her tongue in cheek performances following the star studded premiere yesterday evening, with the likes of Nanne Grönwall and Lill Babs in attendance. The show, dubbed Min Drömshow – My Dream Show is being performed at the Cirkus venue in Stockholm, kicking off properly on the 30th of September, with no fewer than 15 shows in October, 14 in November and 9 in December!