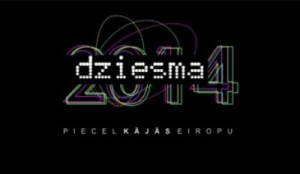 All 24 entries in the running for the Latvian preselection Dziesma 2014 were made available on the internet by broadcaster LTV at the beginning of December. A deadline was set for the 7th of January, whereby names of all performing acts had to be confirmed. Now all details have been released, and the running order for both semi finals has been determined.
With the first of two semi finals mere weeks away, the full details surrounding all competing entries in this year's Dziesma are now known. National broadcaster LTV are hoping to reverse the run of bad luck they've had these last few years, and in the hope of attracting bigger, more established names to the preselection, this year they have decided to go with the theme Made In Latvia. Both semi finals on the 1st and 2nd of February will feature twelve acts, the top six of which will be awarded places in the grand final to be held on the 22nd of February. the final will, according to tradition, take place in the town of Ventspils.
The complete line up for the first and second semi finals is as follows:
Semi 1 (1st of February):
01. Dejo Tā (He dances) – DJ Dween & Sabīne Berezina (M: Kaspars Dvinskis / L: Sabīne Berezina, Kaspars Dvinskis)
02. Bučas (Kiss) – Crazy Dolls (M: Aldis Zaļūksnis / L : Mārtiņš Poļakovskis)
03. I'm Happy – Tamara Rutkovska (M & L: Tamāra Rutkovska)
04. Here I Am Again – Niko (M & L: Vladimirs Koževņikovs)
05. I've Got – Ivo Grīsniņš Grīslis (M & L: Ivo Grīsniņš Grīslis)
06. Cake to Bake – Aarzemnieki (M & L: Guntis Veilands)
07. Just Stop – Oskars Deigelis (M: Ruslans Kuksinovičs / Oskars Deigelis /L: Oskars Deigelis)
08. Stay – Samanta Tina (M & L: Ingars Viļums)
09. Going All The Way – MyRadiantU (M & L: Janis Driksna)
10. I Can Breathe – Aminata Savadogo (M & L: Aminata Savadogo)
11. I Need More – Dāvis Matskins (M & L: Alise Ketnere (Fox Lima))
12. Saule Riet (Take Away) – Olga & Līgo (M: Tomass Kleins / L: Guntars Račs)
Semi 2 (2nd of February):
01. Revelation – Ralfs Eilands, Valters Pūce & Nelli Bubujanca (M: Ralfs Eilands / Valters Pūce / Ansis Grūbe /L: Ralfs Eilands)
02. You Are The Reason – Katrine Lukins (M: Katrine Lukins / Kārlis Indrišonoks / L: Katrine Lukins)
03. I Need a Soul Twin – Mad Show Boys (M & L: Mārtiņš Kits)
04. Lights On – Markus Riva (M: Gaitis Lazdāns /L: Markus Riva)
05. Breathe Slow – Anete Volmane (M: Edgars Viļums / L: Anete Volmane)
06. What If It Was – Rolands Ūdris (M & L: Rolands Ūdris)
07. This Moment and Tomorrow – Katrīna Bindere (M: Edgars Beļickis / Kārlis Auziņš /L: Mikus Frišvelds)
08. Pa Vidu Tu (There with you) – Andris Kivičs (M & L: Andris Kivičs)
09. Pēdējā Vēstule (Last Letter) – Dons (M: Artūrs Šingirejs / L: Ingus Bērziņš)
10. Is It Possible? – Sabīne Vidriķe (M: Edgars Kokorevičs / L: Sabīne Vidriķe)
11. Pressure – Sabīne Berezina (M & L: Žanna Berezina)
12. If I Could (Get Away) – Eirošmits (M: Miks Žagars / Raitis Aušmuksts / L: Miks Žagars)
Among the acts in the running, there are a few names that should be familiar to some. Last year's second placed Samanta Tīna is back for another try with Stay. Showing no signs of quitting, Ivo Grīsniņš Grīslis is back for an impressive fourth attempt with his entry I Got. He last tried in 2012, and his best placing was in 2010, when he ended third with Because I Love You. One half of last year's Latvian entrants PeR, Ralfs Eilands is also back but this time in a different guise, hoping that a trio will be the recipe for successs when performing the entry Revelation. Sabīne Berezina is another name that may be familiar to some: she took part in the Latvian preselections in 2008, 2009, 2011 and 2013 and is back this year with two entries; Dejo Tā, which she will be performing as part of a duo with DJ Dween as well as her solo effort Pressure.
There are a number of composers and lyricists that have quite the back catalogue in terms of Latvian preselections too. Ingars Viļums had no fewer than three entries in the preselection last year, and has also submitted entries in 2009, 2010 and 2011. Rolands Ūdris, co writer of Anmary's Latvian 2012 Eurovision entry Beautiful Song is back, this time singing his own song, What If It Was. Another prolific name among the lyricists and composers is Guntars Račs. He has had entries take part in the national preselection in 2009, 2011 and 2012, besides his Eurovision entry in 2010, Aisha's What For? (Only Mr God Knows Why).
You might also like to read: