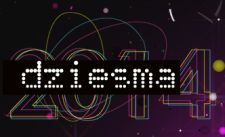 Latvian broadcaster LTV has had a hard time at Eurovision lately, with 2008 being the last time Latvia managed to qualify for the final. They're hoping to reverse their failing fortunes with one of the 24 entries that were published online today for Dziesma 2014.
Rules for next year's national selection Dziesma 2014 were tightened somewhat compared to this year, when foreign composers were also eligible for participation. It remains to be seen whether the amendment of this rule has had any real impact. There is cause for concern however, as a mere 73 entries were submitted to Latvian broadcaster LTV, much fewer than this year, when a total of 122 entries were received. Hopefully it will prove to be a case of quality not quantity as far as next year's national selection is concerned.
From the 73 entries received, a total of 24 have made the final cut, and will battle it out in the two semi finals which are scheduled for the 1st and 2nd of February. Six acts from each semi final will win a ticket to the grand final, taking place on the 22nd of February. All of the 24 entries in the running can be heard on the official LTV Dziesma 2014 website. The names of all the composers and lyricist have been revealed, but the artists are yet to be confirmed. The full list of entries, lyricists and composers is as follows:
Is It Possible     (T & M: Edgard Kokorevičs / Sabīne Vidriķe)
Pēdējā vēstule     (T & M: Artūrs Šingirejs / Ingus Bērziņš)
Just Stop        (T & M: Ruslans Kuksinovičs / Oskars Deigelis / Oskars Deigelis)
Pressure         (T & M: Žanna Berezina)
I'm happy     (T & M: Tamāra Rutkovska)
Stay         (T & M: Ingars Viļums)
Here I am again     (T & M: Vladimirs Koževņikovs)
Bučas        (T & M: Aldis Zaļūksnis / Mārtiņs Poļakovskis
You Are the Reason (T & M: Katrine Lukins / Kārlis Indrišonoks / Katrine Lukins)
Going All the Way   (T & M: Janis Driksna)
Lights on        (T & M: Gaitis Lazdāns / Markus Riva)
This moment and tomorrow (T & M: Edgars Beļickis / Kārlis Auziņš / Mikus Frišvelds)
If I Could (Let Away) (T & M: Miks Žagars / Raitis Aušmuksts)
I can breathe     (T & M: Aminata Savadogo)
I've got        (T & M: Ivo Grīsniņš Grīslis)
Revelation     (T & M: Ralfs Eilands / Valters Pūce / Ansis Grūbe)
I need more     (T & M: Alise Ketnere)
Cake to Bake     (T & M: Guntis Veilands)
Breathe slow    (T & M: Edgars Viļums / Anete Volmane)
Pa vidu Tu     (T & M: Andris Kivičs)
I need a soul-twin     (T & M: Mārtiņš Kits)
What if it was     (T & M: Rolands
Dejo Tā         (T & M: Kaspars Dvinskis / Sabīne Berezina / Kaspars Dvinskis)
Take Away     (T & M: Tomass Kleins / Guntars Račs)
Among the names, we see that one half of the 2004 entrants Fomins & Kleins has composed the song Take Away together with Guntars Račs, who composed the 2010 entry from Aisha, What For? Writer of Anmary's entry Beautiful Song, Rolands Ūdris, is back for another try, as is one half of PeR, Ralfs Eilands. National final stalwart Ivo Grīsniņš-Grīslis is also back, with this his fourth participation. Last year's Latvian act PeR failed to make the final with their lively jaunt Here We Go, limping in at a disappointing 17th place with a measly 13 points. The last time Latvia were seen in the final of the Eurovision Song Contest was back in 2008, when Pirates of the Sea took their shantylike Wolves of the Sea to a highly respectable 11th placing.
You might also like to read: