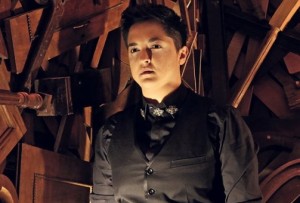 The only Eurovision Serbian winner, Marija Šerifović, is celebrating this year her tenth anniversary in the music business. On this occasion she has released a new album, a book and a documentary where she reveals the secrets of her life, all that under the title Ispovest, which means Confession.
"It's time to celebrate ten years of my small career. I see it as small considering what I'm planning and expecting. A day has come when I feel that I should share all those moments, memories and thoughts, which I was writing down all the time, but I never talked about them. I want to share that with you all and the point is finally to understand who Marija really is'. This is how Marija Šerifović, the Serbian singer who won the Eurovision Song Contest in 2007 with Molitva, describes her new project, Ispovest.
Some European composers and performers are part of this new album whose songs are in English language in order to continue introducing her music to the whole of the continent. Among them is another winner of the Eurovision Song Contest, the Norwegian Alexander Rybak, but they are not singing together. On this occasion, Alexander just plays violin on one of the songs.
Apart from the album, this project contains a book and a documentary about the ten years of her music career from her early beginnings until now.
In the book, in which many people will recognise themselves, she reveals some unexpected details, experiences and thoughts that she has not talked about before. Its aim is to give an in depth autobiography of Marija where she speaks about her family and the difficult marriage of her parents with her dad being alcoholic, gambler and violent.
The short documentary showcases her life, her family, her interests or her love life. Where and how she grew up, what challenges she had to deal with, and in what way all that happened changed her life and influenced her musical career. The video material has been recorded both in Serbia and abroad and many people, including those who know Marija the best, took part, as well as some international stars. The film has just been premiered in cinemas but it is also going to broadcast on TV in eight episodes.
Below you can watch the official trailer of the documentary.
You might also like to read: