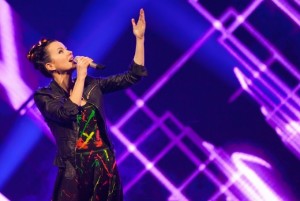 Lithuania continues the searching of their next Eurovision representative with a new Eurovizijos show that took place this weekend. A total of ten candidates competed to be among the nine acts which would proceed to the next phase of the national selection process.
This Saturday a new show of Eurovizijos, the Lithuanian selection process for the Eurovision Song Contest, was held. Ten candidates (five from each previous show) took part of the competition where all of them were performing versions of popular Lithuanian songs.
The ten participants and the songs they performed were as follow:
1. Vilija Matačiūnaitė – Lyja
2. Justinas Lapatinskas – Ar mylit ją jūs?
3. Monika Linkytė – Pavakarys
4. Kristina Radžiukynaitė – Aš žiūriu į tave, pasauli
5. Aistė Pilvelytė – Užgimimas
6. Martynas Kavaliauskas – Gyvenam kartą
7. Ieva Zasimauskaitė – Jurgos klejonės
8. Vaidas Baumila – Meilę skolingas tau
9. Mia – Saulė
10. VIG Roses – Nakty
Aistė Pilvelytė, who had already participated in previous editions of the Lithuanian preselection, was eliminated from the competition after receiving fewer points from the jury and the audience.
These nine hopefuls will be narrowed to eight next Saturday and these eight participants will proceed to the final phase of the selection process where the potential Eurovision entries are expected to be presented. The best four acts from that phase will compete in the big final to be held on the 15th of February.
You might also like to read: