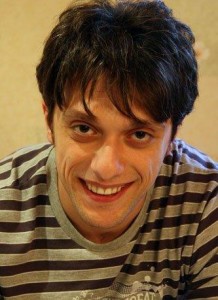 Aram MP3 will fly the Armenian flag in this year's Eurovision Song Contest to be held in Copenhagen. The popular Armenian comedian was internally selected by AMPTV. The song that he will perform is expected to be revealed in February.
During a special TV show to mark the new year called The Big Night Gala TV Show, Aram MP3 was revealed to the public as the Armenian hopeful in the forthcoming Eurovision Song Contest. He is a famous comedian that hosts a popular show in Armenia called Vitamin Club.
His song is yet to be revealed and details about it's selection will come out later on this year. This is  the second consecutive year that Armenian broadcaster AMPTV has chosen their Eurovision candidate by means of an internal selection.
Last year Armenia was represented by Dorians led by frontman Gor Sujyan. Armenia have never won Europe's favourite television show. Their best achievement came in 2008 when Sirusho gave the performance of her life, ranking fourth with her song Qélé, Qélé. 
Sirusho was one of the special guests in the TV show where the 2014 Armenian hopeful was announced. Other past Armenian representatives that appeared in the show where Andre (2006), Inga & Anush (2009), Eva Rivas (2010) and Emmy (2011)
You might also like to read: