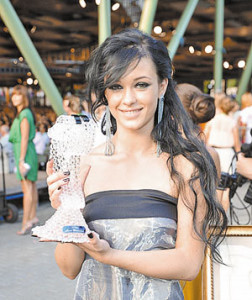 The 2014 season has started and the first entry is now known. 20 songs were competing in the national final in Ukraine, which resulted in Maria Yaremchuk winning the right to represent her country at the Eurovision Song Contest in May next year.
20 songs had been selected for this first national final of the 2014 Eurovision season. The broadcaster announced that it had received around 50 submissions from where an expert commitee selected the songs for the final. 
The songs:
1. Duet Anna-Maria – 5 Stars Hotel
We start out with a set of twin women. One was dressed in red, the other one in a blue dress. The dresses were long and alike, although the one in red was a bit open at the sides around the waist – and they wore gloves matching the color of their sisters dress. They performed a ballad, which builded up at the end.   
2. Roman Polonskij – Wanted Dead Or Alive
We continue with Roman dressed in a black suit with a white shirt underneath. He wore sun glasses and was backed up on stage by four backing vocals and one dancer. Roman came with a pop/rock-ish entry, which never really kicked off. With his voice you kept waiting for some more rock which never came.
3. ULI RUD – Tswetok (Flower)
Uli had three dancers, all male, with her on this quite modern sounding song. She is dressed in a short black dress, which is quite lose. She went up on high notes from time to time, but just with the previous songs, then it doesn't sound like we have heard the winning song yet.
4. Marietta – It's My Life
The song is pop with a few country bits here and there, the dress is colourfull and long, maybe a bit 70-ish? Marietta has four female backing singers with her on stage and one male guitar player. All of them are dressed in colour outfits. Quite refreshing and Marietta shows some fun on stage. This is one song most will like, but not nessasary love, but at least it won't get many dislikes.
5. Stas Shurins – Why
For the next song we have a leadsinger dressed in black trousers with a red jacket over him. He has three musicians and two backing singers with him on stage. It is quite a pleasant pop/rock song and he shows emotions by jumping a bit on the spot. 
6. Anatoli Shparyov – Waiting For You
Anatoli starts with the back to the camera. He is dressed quite relaxing in denim trousers and jacket, a t-shirt and a sweater put around his waist. With him on stage is four dancers, dressed just as casual. It is the most well performed song so far – as here there actually is a clear choography. The song however doesn't really love up to it. 
7. Nataliya Valevska – Love Makes You Beautiful

We now have another choographied performance. Nataliya is dressed in a short dress in black and pink. She has four dancers with her on stage, two male and two female. It is pop song with dance elements, and from time to time Nataliya goes on to the higher notes.
8. Lissa Wassabi – No Fear

Here we have a female singer dressed in a middle long lose grey dress with black spots and blonde detail on the front. She has two musicians with her on this ballad, which offers some quite interesting sounds all over the song and Lissa also tries the higher notes. Despite the interesting things, the song very easy comes across as a bit messy.
9. Volodymyr Tkachenko – Buty Tam De Ty (To Be Where You Are)
On stage for this song is a male singer dressed in a black suit and a white t-shirt. He is playing a guitar and also has a full set of musicians behind him. A lot of smoke is present throuhout the entire song where pyrotechnics also is used. It is a pop song, which actually is quite pleasant to listen to. You don't really get tired of it too early. 
10. Shanis – Moya Dusha (My Soul)
This is something very different from the other songs. A very plesant and well orchestrated ballad performed by Shanis in a long white dress which suits works as contrast to her darker skin and brown hair. With her on stage is a violin player and two backing singers, all female. It is a slow and well performed ballad – and Shanis manage to hit the high notes. This is so far the one to beat.
11. Victoria Petryk – Love Is Lord

We are now half way in the list of 20 acts of this national final. We continue with a female singer dressed in a lose long blue and skin coloured dress. She performs the song, which is a pop song with interesting elements, quite well. Near the end of the song a bit rock attitude comes over the song at the same time as the wind mashine really kicks in. This is well performed and could be a strong contender to the previous song. If she looks familar that might be because she is the sister to the Ukrainian Junior Eurovision Song Contest winner from 2012 – and Victoria herself competed in 2008 where she got second.
12. Evgen Litvinkovych – Strelyanaya Ptitsa (Wounded Bird)
Next is Evgen dressed in a dark suit with a black shirt underneath. It is all quite dark as the four backing singers are dressed in black as well and the stage kept in dark colours as well. Near the end it gets lighther and the background quite interesting. It is all quite dramatic, but I have to say that I don't quite hear it in the song, but it might be in the lyrics, which I can't understand.
13. Band NeAngely – Courageous
We continue with quite a show. Two female singers, both dressed in black. They are followed by four backing singers also in black. The two lead singers moves around and all their moves are matched with each other. Well organised on stage, but very strict. The song is a pop song with dance features. It is quite well performed, but is it a winner? 
14. Illaria – I'm Alive

Here we have a feamle singer in a short white dress. She has long hair, which is curly and then she is wearing a bathing cap on her head! She is also wearing long black boots and has backing singers with her. The song is quite dramatic.
15. Tetyana Shyrko – Let Go

Another white dress, this time a long one. It is worn by Tetyana who has a backing singer and two dancers with her. The dancers performs a show of their own in the background and don't mix with the singer. Tetyana is using a very red lipstick which certainly adds some dramatic effect to the song. Unfortunately I don't think it stands out enough.
16. Tania BerQ – Believe Me

Tania is singing a pop ballad. She is wearing a long black dress with patterns. She has long red hair and three backing singers behind her. Near the end she takes the mic from the stand moves forward. This is the moment where the song really kicks off into a power ballad. Suddenly it turns from bland to very interesting. 
17. Maria Yaremchuk – Tick-Tock

Here we have a female dancer dressed in a long black dress with very high side cuts. There is a bit of Ruslana over her, but the song is very different. It is a catchy pop song, which is trying to make you remember the title as you find yourself trying to sing a long to.. yes, Tick-tock. Unfortunately it is difficult to sing a long to. A fine performance, but it will need some work for Eurovision should it win.
18. Victor Romanchenko – Na Krayu Propasti (On The Brink Of The Abyss)
Victor har quite charming eyes, which makes you wait for a smile from him. He is dressed in a long black jacket with hoot and back leather trousers. He has one female backing singer with him on this rock ballad. It is quite dramatic, which unfortunately also means that you don't get the smile from him which you are waiting for, not even at the end where he turns around and walk back on the stage with the back to the audience and the TV viewers.
19. Anna Hodorkovska – Yesli Yest Lyubov (If There Is Love)
Second to last we have Anna, also dressed in a white dress. That colour has been popular among the female artists in this national final. Anna's is long with patterns, and long sleves as well. She has long blond hair and with a lot of light on stage it is sometimes difficult for her to stand out. She performs a ballad, which is quite nice, but without the elements many consider as needed to get remembered. 
20. Denis Lyubimov – Love

We end with  a male singer who has two musicians, a guitar player and a keyboard player and atwo female backing singers with him on stage. He is dressed in a relaxed dark suit. This pop song has spoken part near the end, which certainly makes that you remember it, but the song itself is not something that sounds like a winner.
The show:
For most people involved with this national final there was no relaxing in bed this morning as the show started at 11:15 CET (12:15 local time).
The show was hosted by Timur Miroshnychenko and Tetyana Terehova, and for the viewers of the international webstream on Eurovision.tv the broadcaster NTU had provided an English translater.
After each set of four songs they were talking to the participants in the greenroom. With so many songs in such a short time it was just a very short talk. A recap was shown after the talk to the last four singers. It was a very short recap, where it also appeared like quite some of the clips wasn't well chosen. It is difficult to tell what the Ukranians will vote for, but the songs that stood out in the recap was nr. 4, 10, 11, and 13.

Sofia Tarasova joined the show as interval act. She represented Ukraine at the 2013 Junior Eurovision Song Contest. As entertainment we also saw performances from Masha Sobkov, a former national finalist and a then an honored local singer. The most well known to the Eurovision followers were however Mika Newton, who represented Ukraine at the 2011 Eurovision Song Contest.
Another recap was shown after the interval acts had performed. And while the voting was being counted it was time to watch the performance from yet some local artists, first Kamalia and then Matias (who happens to have quite a similarity to Tomas N'evergreen, Denmark 2010). After a few local artists we saw yet another familar name on stage as Zlata Ognevich performed as well. She represented Ukraine at this year's Eurovision Song Contest with the song Gravity. It was however not her Eurovision entry she performed in today's national final.
The voting: 
So who should represent Ukraine at the 2014 Eurovision Song Contest? That decision was taken by a combination of a professionel jury and the televoters via SMS, with the latter needed to have in mind that only one SMS per mobile phone was allowed.
The voting started after the performance of all the songs.
With 20 songs in a national final that only lasted 2 and a half hour and featured seven interval act performances, there wasn't time for a big interesting voting procedure… the winner was just announced…  Maria Yaremchuk with the song Tick-Tock. 
Ukraine at the Eurovision Song Contest:
Ukraine is among the most succesful countries at the Eurovision Song Contest. They joined in 2003 and have so far never failed to qualify for the final. They won once, in 2004 where Ruslana spread her Wild Dances around Europe, but in total they have amazingly 7 top 10 placements.