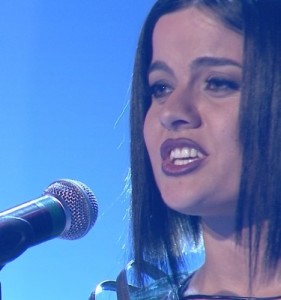 Hersiana Matmuja won the 52nd Festivali i Këngës with Zemërimi i një nate and will represent Albania at the 2014 Eurovision Song Contest in Copenhagen. 16 acts competed to see who would fly the flag in Denmark in May.
The Songs –
1. Hersiana Matmuja – Zemërimi i një nate
First up is a rock style ballad with some guitar and piano playing. Hersiana is dressed in a long black dress. She has a strong voice and performs very well and the song has a nice melody.
2. Besiana Mehmedi & Shkodran Tolaj – Jam larg
Next up we have female/male duet. Besiana is wearing a long black dress and Shkrodan is wearing a long black jacket and trousers. This a operatic style ballad with a big instrumental break where we see the RTSH orchestra playing to full effect.
3. Luiz Ejlli – Kthehu
The former Albanian Eurovision participant of 2006 returns. Luiz is dressed in black suit with white shirt. Another ballad that is sang with a lot of emotion but it has no melody and is also on the forgettable side.
4. Frederik Ndoci – Një ditë shprese
Another former Albania participant at Eurovision from 2007 takes to the stage. Frederik is dressed in black suit and red kneck tie. This another ballad with a gentle and sweet melody. There are nice strings and horns from the orchestra in this performance.
5. Grupi NA – Jehona
Although this is listed as a group, there is just one male on stage. He is wearing grey jacket and trousers. Another ballad with strong backing vocals and use of strobe lighting on this performance.
6. Klodian Kaçani – Me ty
So here we go with a more upbeat ballad. At least there are some drums in there. Klodian is dressed in black evening suit with a bow tie. This song you can imagine in the San Remo festival in Italy. A good performance.
7. Lindi Islami & Venera Lumani – Natë e parë
Yet another ballad but this one is very well performed and has a nice melody. It is a male/female duet. The male is wearing black evening wear suit and the girl is wearing a white dress. This was well received by the audience.
8. Blerina Braka – Mikja ime
Blerina is dressed in long white and black dress. She has a strong voice and performs yet another ballad quite well. Not a strong melody here. Strong backing vocals from a male we do not see.
9. Xhejsi Jorgaqi – Ëndërrat janë ëndërra
A change of tempo at last. More up eat with strong effect of the strobe lighting. Xhejsi is wearing a red top and red pants. The song has a rock beat style with lots of guitar and soaring vocals. A strong performance that sits well amongst all of the ballads so far.
10. Xhejn & Enxhi Kumrija – Kur qielli qanë
Female duet with a haunting and nice melody. There are guitars and strings by the orcestra. One of the girls is wearing a black dress and the other is wearing a black sleeveless overjacket with black pants and white blouse. The girls voices blend nicely and this one you can remember.
11. Grupi LYNX – Princesha
Here we have a rock band on stage. There is use of fire on stage. We have a guitar solo. Lead singer is wearing black jacket and trousers and also black shirt. The audience like this song.
12. Marjeta Billo – Ti mungon
Marjeta performs a rock style ballad. She is wearing a white blouse and black pants. Marjeta has strong vocals. There is good use of guitar and deep bass strings. We see one the orchestra performing a guitar solo.
13. Sajmir Braho – Grua
Sajmir is wearing a white suit. We have another ballad that appear to go nowhere. Good vocals but the song in not memorable at all.
14. Rezarta Smaja – Në zemër
Rezarta is wearing a short black dress. Lots of vocal gymnastics. A mid tempo song. It does not really leave a strong impression but well performed.
15. Edmond Mancaku & Entela Zhula – Vetëm për ty
A piano introduction and then Edmond takes the first vocals (with a little feedback on the microphone). Then we get a light beat as Entela begins to sing. This has some promise. Edmond is wearing a black leather jacket with a black cap too. Entela is wearing a black dress. Their voices blend well together. Another guitar solo included here.
16. Renis Gjoka – Mjegulla
Renis has green strobe lighting surrounding him. He is wearing a grey jacket and black t-shirt and black trousers. This has some nice use of the orchestral strings. Renis has husky vocals that seem to work effectively.
The Show –
The festival was hosted by Enkel Demi and actress Klea Huta. The show began at 20:45 (CET). It was broadcast by RTSH by satellite and webcast. There was a full orchestra playing with each of the 16 acts on stage.
The interval act included Emmelie de Forest, the winner of the Eurovision Song Contest in 2013 and Elhaida Dani, the winner of the The Voice of Italy 2013 who also performed at the festival.
The Voting –
The voting was by an expert jury only. In Albania at present there is no televoting. The jury were –
Agim Krajka, composer
Aleksander Lalo, composer
Hajg Zaharian, composer
Petrit Malaj, actor
Eriona Rushiti, composer
Xhevair Spahiu, lyricist
Bojken Lako, singer & songwriter
Albania at Eurovision –
Albania first entered the Eurovision Song Contest in 2004 with Anjeza Shahini and The Image Of You. Anjeza finished in seventh place in the final. The broadcaster, RTSH, have participated every year since then.
The highest placing to date was in 2012 where Rona Nishliu took Suus to fifth place. Popular entries over the years included the entries by Olta Boka in 2008, Kejsi Tola in 2009 and Juliana Pasha in 2010.
You can see Hersiana Matmuja perform her winning song below.