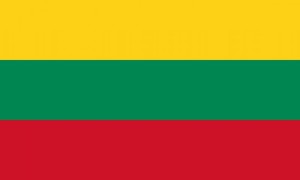 Lithuania have selected the first five acts to continue to the next phase of their 2014 national selection series, Eurovizijos. After an introductory concert held on 14 December where 20 acts were revealed to participate. The serious business has now begun for the candidates.
There are no new original songs at this phase. The acts will compete against each other. On 21 December, ten performed former Eurovision songs. Voting consisted of a combination of expert jury and televoting.
The ten acts and song performed in the first round were –
1. Aistė Pilvelytė (Loreen) Euphoria, SWEDEN 2012
2. Aleksandra Metalnikova (Ruslana) Wild Dances, UKRAINE 2004
3. Vaidas Baumila (Marco Mengoni) L'Essenziale, ITALY 2013
4. Julija Jegorova (Ani Lorak) Shady Lady, UKRAINE 2008
5. Vilija Matačiūnaitė (Shiri Maimon) Hesheket Shenishat, ISRAEL 2005
6. Jurijus Veklenko (Roman Lob) Standing Still, GERMANY 2012
7. Justinas Lapatinskas (A Friend In London) A New Tomorrow, DENMARK 2011
8. Sasha Song (Celine Dion) Ne Partez Pas Sans Moi, SWITZERLAND 1988
9. Juozas Butnorius (Olsen Brothers) Fly On The Wings Of Love, DENMARK 2000
10. VIG Roses (Vanilla Ninja) Cool Vibes, ESTONIA 2005 
One former Lithuanian participant from Eurovision was taking part, Sasha Song, who performed Love in 2009. But it was not good news for Sasha as he failed to make it to the next round.
The five acts who have qualified for the next phase are – Vilija Matačiūnaitė, Vaidas Baumila, Aistė Pilvelytė, VIG Roses, Justinas Lapatinskas.
On 28 December another ten artists will compete against each other with again five more acts passing to the next round. Eventually less acts will qualify each week until we gain the national final artists.
You can see VIG Roses perform Cool Vibes and Justinas Lapatinskas perform A New Tomorrow below.
You may also like to read –