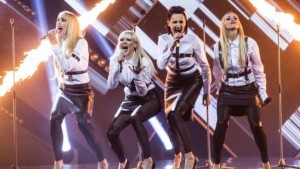 The national selection season is about to kick off in Lithuania and this weekend the twenty shortlisted acts that will compete for the ticket to Copenhagen were revealed. The presentation took place at the special concert commemorating the 20th anniversary of the Lithuanian Eurovision debut.
The Lithuanian selection for the 2014 Eurovision Song Contest will consist of nine televised shows that will be broadcast every Saturday starting on the 21st of December at 20:00 CET. The first two shows will help us to know a little bit more about the twenty hopefuls and we will listen to them singing a Eurovision song previously chosen by the jurors. Out of the twenty acts, only ten will qualify for the next phase of the selection process where the potential Eurovision entries are expected to be revealed. Another six acts will be eliminated and the number of finalists will narrow down to four.
This weekend we met the twenty shortlisted acts that will take part at the upcoming preselection shows. Among them there are some familiar faces like Sasha Son, who represented Lithuania at the 2009 Eurovision Song Contest, or Jurijus Veklenko and Monika Linkytė who were two of the backing singers for Andrius Pojavis in 2013.
These will be the participants of the first show (December 21st):
Vilija Matačiūnaitė
Sasha Song
Aistė Pilvelytė
Aleksandra Metalnikova
Julija Jegorova
Jurijus Veklenko
Juozas Butnorius
Justinas Lapatinskas
Vig Roses (Giedrė Girnytė, Akvilė Matukaitė)
Vaidas Baumila
And these are the artists that will be performing in the second show (December 28th)
Monika Linkytė
Pop Ladies (Natalija Bunkė, Katažina Nemycko, Baiba Skurstene, Liepa Mondeikaitė)
Neringa Šiaudikytė
Martynas Kavaliauskas
Mia (Vilija Pilibaitytė)
Kristina Radžiukynaitė
Soliaris (Algimantas Minalga)
Tadas Vilčinskas
Ieva Zasimauskaitė
Gintė Sičiūnaitė
The national selection shows will be hosted by Arūnas Valinskas and Simona Nainė.
In the videos below you can watch some of the performances of the candidates to represent Lithuania at the 2014 Eurovision Song Contest singing their own versions of former Lithuanian Eurovision entries at the 20th anniversary concert that took place this weekend.
You might also like to read: