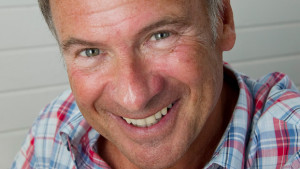 As tradition goes, Swedish schlager fans usually have a summer highlight to look forward to, when the annual Diggiloo summer tour comes to town during the course of July and August. Lasse Holm has been the compere for the event for the last ten years, but according to Swedish media has now decided to step down as of next year.
Diggiloo has been a staple for many fans since its inception ten years ago. What began as a one off event has developed into a nationwide tour, normally featuring between eight to ten artists who more often than not have some kind of connection with Melodifestivalen and Eurovision. Lasse Holm, former participant from 1986 when he took to the stage with Monica Törnell performing the tongue in cheek entry "É Det Det Här Du Kallar Kärlek?" has been the driving force behind the happening up until now. Over the years, he has had the pleasure of accompanying artists such as Elisabeth Andreassen, Lotta Engberg, Sanna Nielsen, Amy Diamond, Linda Bengtzing, Charlotte Perrelli and Jan Johansen from north to south in their native Sweden, playing at many venues, including stately homes and even a royal palace! With something for almost every taste, it's no surprise then that the tour has become such a smash hit.
This year has been no exception, on the contrary, to celebrate their 10th jubilee, no fewer than 22 artists have followed Holm around Sweden, spreading their own paticular brand of Schlager joy, with well known names including Magnus Carlsson (Barbados, ex. Alcazar), The Moniker, Jessica Andersson and Charlotte Perrelli. The gang have been holding concerts since the beginning of June, throughout July and are set for their two final shows in Stockholm and Älmhult on the 18th and 25th of August respectively. Former entrant and music supremo Holm, who besides his own entry in 1986 is the man behind a formidable 4 other Swedish entries in 1982, 1983, 1985 and 1993 as well as 13 entries in Melodifestivalen has chosen to quit while ahead, leaving the tour and Diggiloo concept on a high note as of next year.
With the announcement of Holm's departure this year, the hunt is now on for his replacement and a number of interesting names has popped up. Swedish tabloid Expressen is the latest to publish a list of the most credible and probable candidates, including the following:
Lotta Engberg – has figured six times in the national selection Melodifestivalen, appearing for the first time in 1984, coming second to Herrey's with Sankt Cecilia in a duet with Göran Folkestad. She went on to represent Sweden in 1987 with Boogaloo, and also appeared in Melodifestivalen in 1988 (100%), 1990 (En Gång Till), 1996 (Juliette & Jonathan), 2002 (Vem É Dé Du Vill Ha) and in 2012 with Christer Sjögren singing Don't Let Me Down.
Nanne Grönvall – another Swedish music staple, has participated at Melodifestivalen eight times either as an artist or composer. Grönvall represented Sweden in 1996 as part of One More Time, coming third with Den Vilda, and has gone on to have huge hits with Avundsjuk (1998), Evig Kärlek (2003), Håll Om Mig (2005) and Jag Måste Kyssa Dig (2007). She has also participated in the British national finals with the song Men in 2000.
Martin Stenmarck has participated in Melodifestivalen and represented Sweden at Eurovision in 2005 with Las Vegas, coming in a lowly 19th.
Måns Zelmerlöw is no stranger to any fan in Sweden, having participated at Melodifestivalen with the huge hits Cara Mia (2007) and Hope & Glory (2009). In addition, Zelmerlöw has also hosted Melodifestivalen in 2010 as well as the popular show Allsång på Skansen since 2011, bringing him further success and making him one of the hottest candidates for the job. The new host of Diggiloo will be revealed in October this year, and according to Holm himself, changes to the host role as well as a few surprises are not to be ruled out. Whichever name should make the grade, we certainly all agree that all of those mentioned above are more than up to the job.