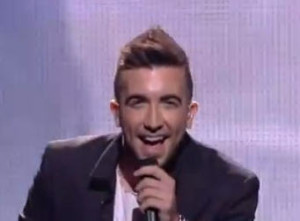 2012 Maltese representative, Kurt Calleja has recently released a new music video entitled Love on Mars. This release follows his debut album that carries the same title as the newly premiered video.
Earlier this year, Kurt Calleja released his single Love on Mars and recently he premiered the video for this song. This year the Maltese singer was working on his debut album which has the same name as his latest single. Love on Mars is written by Chris Denaro and it was recorded at Railway Studios MT and Treble Studios. Mikael Gunnerås who co-wrote his Eurovision entry in 2012, was responsible for the production of his single.
Last year, Kurt Calleja received considerable airplay with his track Boomerang. 
Kurt Calleja represented Malta in the 2012 Eurovision Song Contest with the song This is the Night and managed to qualify to the final but couldn't finish better than 21st. Meanwhile, Kurt's brother (Kevin Paul Calleja) who accompanied him in Baku as a guitarist is in contention to advance to the next round for the next Maltese selection. You can see Kurt's latest video below.
You might also like to read: