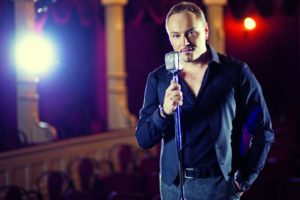 We have the first artist for the 2015 Eurovision Song Contest! The Montenegrin national broadcaster, RTCG, held a special press conference in Podgorica yesterday where their next Eurovision entrant was presented. It is Knez who will fly the Montenegrin flag in Vienna.
RTCG has decided to select their next Eurovision Song Contest representative internally like in previous years and it has been revealed that their entrant for Vienna will be Nenad Knežević, better known by his stage name, Knez.
He stated he is honoured to represent Montenegro at the upcoming Eurovision Song Contest and said: "I'll do my best and invest all my experience and knowledge. At the same time I'm hoping to have a perfect song which will represent Montenegro in the best possible way". He also admitted he is a passionate Eurovision fan. In fact, he participated in 2004 at the national selection from Serbia & Montenegro and he finished 17th at the final of Evropesma with the song Navika.
The song that Knez will sing in Vienna will be revealed at a later date but, when asked about this, he said that "ballads were doing well in the last few years, but I wouldn't exclude having an up-tempo song with some catchy melody."
Knez is a veteran in the music business and a well-known artist in the Balkans. He shot to fame in 1992 when he participated at the Belgrade Pop Festival (Mesam) and throughout his career he has released eleven successful albums (three of them compilations) and has also written and produced songs for other performers. His musical style goes from pop to more traditional and regional sounds. He has a vibrant, energetic and sincere voice that adds an engaging tone to any song.
Knez will follow in the footsteps of Sergej Ćetković who qualified for the final of the Eurovision Song Contest for the first time in the history of Montenegro with his song Moj Svijet achieving a 19th place.
Below you can watch the video of one of Knez's songs Donna and you can also see him singing his latest single Znam Da Nisi Ona that will be included on his upcoming album.
You might also like to read: