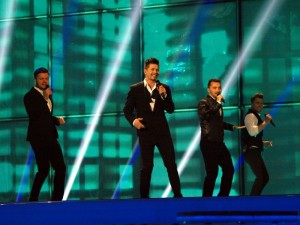 The Belarusian national broadcaster BTRC has announced the national selection procedure for the 2015 Eurovision Song Contest. Applications will be accepted until the 21st of November and the national final will take place no later than January 23rd next.
BTRC has announced more details about the application procedure and participation rules and a call for entries has been open today that will last until the 21st of November. The selection will follow the regulations established by the European Broadcasting Union and, according to the rules, all artists and authors wishing to take part in the national selection must be citizens of Belarus, foreign citizens or persons without citizenship who have been permanently living on the territory of the Republic of Belarus.
After this deadline, a panel of experts will listen through all the submitted songs and will hold auditions where all artists will have an opportunity to showcase their musical skills. The best fifteen singers will get the ticket to the national final and their names will be announced not later than on the 5th of December.
Those fifteen contestants will perform their potential entries in the national final which will be broadcast live not later than on the 23rd of January.
During the final, the winner will be selected by a combination of televoting and a professional jury but there is a significant change in the voting rules. The Belarusian representative for Vienna will be chosen by the votes from seven judges, whose names will be announced during the live show, along with televoting which will be acting as the eighth judge. It means that the weight of televoting will be only 1/8 of the total score.
In the 2014 Eurovision Song Contest, Belarus was represented by Teo who came 16th in the Grand Final in Copenhagen with his song Cheesecake. You can watch his performance in our 3D video below.
You might also like to read: