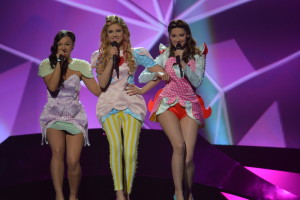 Serbian broadcaster RTS has revealed that the Serbian entry for the 2015 Eurovision Song Contest will be chosen in a competition between three songs composed by Vladimir Graić and three singers. Two of them will be established artists but there is also a chance for newcomers.
The Serbian broadcaster confirmed a few weeks ago the participation of the country at the upcoming Eurovision Song Contest after one year break and it was also revealed that Vladimir Graić, one of the composers of Marija Šerifović's winning entry Molitva, will be in charge of writing the next Serbian entry. Today we have known more details about how the whole selection process will be.
The Serbian composer has the task of composing three songs for three different artists. Two of the candidates will be familiar faces and established artists in the Serbian music scene while the third one will be chosen through auditions that will be held in six Serbian cities (Niš, Zaječar, Kragujevac, Užice, Novi Sad and Belgrade) in the coming weeks.
All the talented Serbian artists wishing to participate must send their application by email to [email protected] including their personal details and a video of themselves performing a Serbian pop/rock song. The deadline is the 10th of November.
The national final show will be held in February and the winner that will represent Serbia in Vienna will be decided by televoting.
The last time Serbia participated at the Eurovision Song Contest was in 2013 with the girl group Moje 3. You can watch their performance in our 3D video below.
You might also like to read: