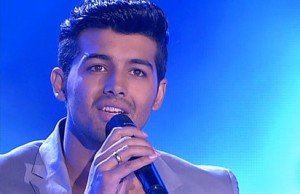 After two months of qualifying rounds at the first season of The Voice (La Voz) in Spain, the four best voices that will compete in the final has now been chosen. Jorge González, who participated at the 2009 national selection for the Eurovision Song Contest, is one of them.
More than five million viewers enjoyed last night the four-hour semi-final show which included the performances of international artists such as Alejandro Sanz, Leona Lewis or Carly Rae Jepsen who sang along with the finalists.
Jorge González was the last act of the night with his performance of the salsa song Valió La Pena by Marc Anthony which ended with the four coaches standing. His coach, Rosario, assured that he has an overwhelming desire to be an artist. He won his opponent, Angélica Leyva, after receiving a massive support from the audience which gave him the 81% of the votes and he will fight next week for being the voice of Spain.
At the beginning of this talent show we had several artists related to the Eurovision Song Contest among the participants but they have gradually been eliminated in the qualifying rounds. The first one was Mirela at the battle round. She, with an eye on winning the competition, did an almost perfect performance of the song Devuélveme La Vida. It was a hard fought battle but her coach, Melendi, decided in favor of her opponent, Javi Mota, leaving her out of the television program.
Anael and Mónica Guech overcame their respective battles but they were eliminated in the quarterfinals. The last participant to be eliminated from the group of those who ever tried to represent Spain at the Eurovision Song Contest was Paco Arrojo. He reached the semi-final but his coach, David Bisbal, opted for his opponent.
The final of the contest will take place on Wednesday the 19th of December. The audience will vote for their favorites throughout the week. We will see if Jorge gets what he wants, the opportunity that will lead him to succeed in the music world.
In the video below you can watch Jorge's performance at the 2009 Spanish selection for the Eurovision Song Contest.
You might also want to read: