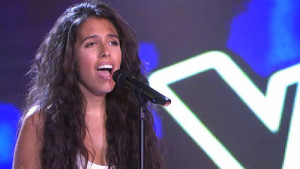 The Spanish edition of the popular music talent show The Voice (La Voz) have started with its blind auditions. In first episode Mirela sang beautifully with no trouble to reach the highest notes and achieved the recognition from the well professional coaches.
The purpose of this show is to judge the contestants based only on their voices and not their looks and the four coaches began to select teams of fourteen based solely on the artists' voice. This coaches are David Bisbal, who was one of the backing singers for Rosa at the 2002 Eurovision Song Contest, Rosario, Malú and Melendi.
One of the participants in the first show was Mirela, who tried to represent Spain at the Junior Eurovision Song Contest in 2004 when she finished just behind the overall winner of this year's contest, María Isabel. In 2007, as soon as she was old enough to participate at the Eurovision Song Contest she applied with La Reina De La Noche placing second once again. One year later, she submitted her candidacy to the online national selection but she did not reach the final and in 2009 she finished fourth singing Nada Es Comparable A Ti. Despite these small failures, she has never given up and has continued working to make it in the music business and exactly one year ago she was performing the lead role as Princess Fiona at the musical of Shrek.
Mirela's blind audition was full of tension as it seemed that no one of the coaches were decided to press their buttons leaving Mirela to go home with nothing. She sang the Spanish language version of All By Myself which was popularized by Celine Dion under the title Sola Otra Vez. Maybe she did not do her best performance, and those who have listened to her before can corroborate this but, one of the coaches, in this case Melendi, pressed his button that means that he wanted her on his team.
Although only Melendi dared to press the button that became Mirela one of his team members, all coaches highlighted her great voice. "You have an impressive strong voice" said Rosario. "Listening to your booming voice, I would not have imagined that you would look like that" admitted Malú. David Bisbal assessed that she "can sing in such a very high tessitura but sometimes this is not enough". Meanwhile, Melendi was sure that she "has all the makings to be a star" but he confessed that he was not convinced at the beginning because she "started her performance a bit nervous and out of tune" but, at the end of the song, she gave him goosebumps. He said to his new team member that they will work hard together and he will respect all her decisions.
Mirela has high expectations of her coach and she admitted that she was very nervous while singing and she joked "I do not know where the voice came out".
The battle will begin once the teams are set and that will be in three weeks. Then the four coaches will dedicate themselves to developing their singers, giving them advice and sharing the secrets of their success to prepare them for the battle rounds where each coach will pit two of their own team members against each other to sing the same song together during a live broadcast.
Links
Video of Mirela's performance and jury reactions at the blind audition