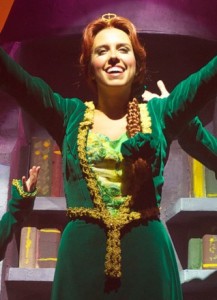 Shrek the musical comes to the Nuevo Apolo Theatre in Madrid and Mirela has won the fairy-tale prize of the lead role as Princess Fiona, proving she has got plenty of talent of her own. EuroVisionary attended the premiere.
Mirela was the runner up at the Spanish Junior Eurovision national final in 2004. She tried to represent Spain in 2007 with La Reina De La Noche narrowly missing out, placing second. In 2008, she tried her luck at the Salvemos Eurovisión online selection but failed to reach the national final. She took part in her third bid for the Eurovision Song Contest in 2009 finishing in fourth place with the song Nada Es Comparable A Ti.
She is currently donning a ton of green make-up every night to play Princess Fiona in Shrek The Musical. It focuses on the story from the first film and it tells the story, loved by people of all ages, of the swamp-dwelling ogre who, in a faraway kingdom, embarks on a life-changing adventure in order to reclaim the deed to his land. Joined by a wise-cracking donkey who won't shut up, this unlikely hero – not a handsome prince – fights a fearsome dragon, rescues the feisty Princess Fiona and learns that real friendship and true love aren't only found in fairy tales.
Princess Fiona is one of those elusive mythical beauties and Mirela performs that role with perfect poise and true vocal technique. Her crystal clear voice is doubled by a firmly mastered technique and in equal measure by a great power of work. She emanates dedication, by the noble and accentuated sensibility of interpretation generating an attractive polychromy of nuances. She has a powerful voice and very good technique, with defining elements of diction and phrasing in the manner of emphasizing the meaning of each word. But, also, a charming apparition conquering the audience with her sincerity, sensibility and the shine of her singing.
Below you can watch the promotional video of the show.