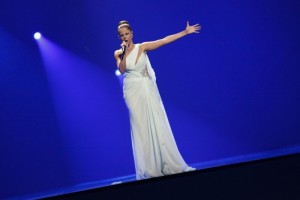 TVE wants to bet again for a seasoned singer with an established career.  Today it has been confirmed that the artist who will fly the Spanish flag in Malmö will be chosen through an internal selection by the same formula that provided a big success to the country last year with Pastora Soler.
In the coming days, the public broadcaster will reveal the name of the artist who will go to Malmö. So far, we know about the selection process, and this is the same procedure used in the previous edition, in which Pastora Soler was chosen as Spanish representative at the 2012 Eurovision Song Contest. In Baku, she reached tenth place with 97 points with her performance of the song Quédate Conmigo, and she had the best result for Spain since 2004.
TVE confirms this information to dispel rumours from this weekend that said that the public broadcaster would not participate at this year's Eurovision Song Contest due to cost. It was a news program from a national channel that raised the alarm considering the possibility of Spain joining the group consisting of Portugal, Poland and Slovakia withdrawing because of economic problems.
There are many names that are being considered by the fans in recent days. A few weeks ago the boy band Auryn, who participated at the national selection in 2011, seemed to be the favourites but there were the members of the band themselves who were quick to deny the rumours. A few days ago, it was suggested that Pablo Alborán would be chosen, and this rumour seemed so credible that the artist via Twitter and also his label, EMI Music Spain, denied it firmly. Another name suggested is Malú, who denied being the chosen one citing scheduling problems.
It is a matter of days that we will know the candidate that will represent Spain in the final of the Eurovision Song Contest to be held in Malmö on 18 May. But, while we wait to resolve this enigma, you can watch our 3D video of Pastora Soler performing Quédate Conmigo at the 2012 Eurovision Song Contest. As always, we strongly recommend watching this video in 3D to enjoy it to its fullest, but if you do not have a pair of suitable glasses this can easily be turned off in the player below to watch in regular 2D.
You might also want to read: