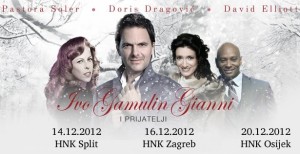 Pastora Soler and Doris Dragovic will be the special guests at a Christmas concert tour in Croatia. They were invited by the tenor Ivo Gamulin Gianni to share the stage with him at these charity shows that takes place in Split, Zagreb and Osijej on the 14th, 16th and 20th of December respectively.
Pastora Soler, who represented Spain at the 2012 Eurovision Song Contest, and Doris Dragovic (Yugoslavia 1986 and Croatia 1999) will be touring Croatia in mid-December next to the popular artist Ivo Gamulin Gianni in a series of three events entitled Ivo Gramulin Gianni I Prijatelji which means "and Friends".
The lineup of the concerts also includes the American soul singer David Elliott who is the son of the world singing legend Dionne Warwick (who was one of the guests at this same event last year) and nephew of the recently deceased diva Whitney Houston.
This tour is part of a series of charity concerts and will certainly be one of the most popular events at Christmas time in Croatia. The total amount of revenue from the show that will take place in Split will go to an association to help women with breast cancer. A part of the money from the Zagreb's concert will be intended for the environmental protection of an area in Dubrovnik. Meanwhile, all the money to be achieved from the sale of tickets for the concert of the city of Osijek will go to help abused children.
The show will include performances of their own and world's greatest hits as well as some of the most famous duets. Also one of the concerts will be aired on the public broadcaster channel in the coming days.
Below you can watch the promotional video of the concerts and also our 3D video of Pastora Soler performing Quédate Conmigo at the 2012 Eurovision Song Contest. As always, we strongly recommend watching this video in 3D to enjoy it to its fullest, but if you do not have a pair of suitable glasses this can easily be turned off in the player below to watch in regular 2D.
You might also want to read: