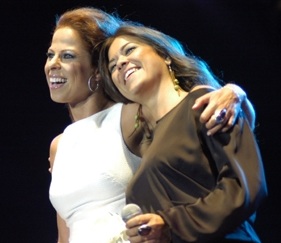 Following the huge promotion of Quédate Conmigo, Pastora Soler has a new single from her latest album Una Mujer Como Yo and it is the song called Vamos, composed by Pastora herself and two of her colleagues and also best friends Malú and Vanesa Martín. The song has been recorded again this time as a duet.
This song was composed by three great artists and friends, Pastora Soler, Vanesa Martín and Malú, on an evening filled with friends and laughter, an evening which could not have had a better outcome than with the creation of this great song that talks about trying to save a relationship that comes to an end before our very eyes.
The composition of the song was done pretty casually and they recorded the first version with their mobile phones. Vanesa played guitar while the three of them were improvising melodies and lyrics about dreams, strength and love and this is the result.
Vamos was originally included in Pastora's latest album Una Mujer Como Yo (A Woman Like Me) sung only by her but a few months ago we could listen to her singing it together with the other two composers during the Spanish song selection show.
The new version sung as a duet with Vanesa Martín who has one of the most distinctive voices of the Spanish music scene is now available in digital stores.
Below you can watch their performance in a huge live concert in Cádiz sponsored by the radio station Canal Fiesta.