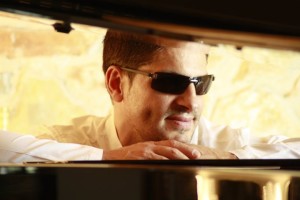 Serafín Zubiri is about to release a new album titled X Una Causa Justa where he wanted to implicate a number of social causes for which it is worth fighting and he has dedicated each song to a different matter. In addition, he will star in an adventure's tv show that will premiere on Sunday afternoon.
Serafín Zubiri has represented Spain twice at the Eurovision Song Contest in 1992 with Todo Esto Es La Música and in 2000 with Colgado De Un Sueño. In his thirty-year career he has demonstrated that his blindness has never been an obstacle to achieve his goals and this makes him a benchmark for other people living in the same conditions.
In these days of economic crisis and social unrest a gesture of solidarity is more necessary than ever. That is why he has decided to record a new album, which contains twelve songs dedicated to twelve good causes. The project has the collaboration of some of the Spanish leading NGOs and associations that struggle daily for each of these causes such as Manos Unidas, Global Humanitaria, Greenpeace, Messengers of Peace, Caritas, Edad y Vida, Special Olympics, Miriadas or AIE and it will hit the stores next Tuesday 27 November.
The track list of X Una Causa Justa is as follow:
1. Vamos Adelante
2. Gran Tesoro
3. Dónde Voy Sin Ti
4. Cara A Cara
5. Para Qué Llorar
6. Dame Música
7. La Energía De La Humanidad
8. Las Calles Del Olvido
9. Juégatela
10. Rompe Ese Silencio
11. Es Navidad
12. Madre Querida
Moreover, this Sunday November 25 at 19:00 CET will be premiered the multi-sport tv show Sin Barreras (No Barriers) in which he will perform some exciting challenges that claim to remove some prejudices about the blind. This docu-reality show promotes the spirit of excellence through sport. In the show, the singer will be exposed to different and exciting challenges and he will show to the audience his lesser known skills.
The show, which is sponsored by the National Organization of Spanish blind people (ONCE), will be broadcast on the second channel of TVE and consists of three episodes that will air on consecutive Sundays. In the first episode, he travels to Valencia where he dives in the sea, climbs emblematic peaks, leaps into space and does whitewater falls.
Below you can watch the video for the first single of his new album entitled Vamos Adelante. This song is dedicated to all the volunteers and people who make this world a better place.