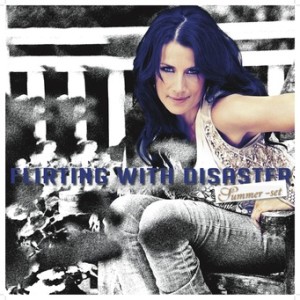 Sweden's very own queen of country and former Eurovision entrant Jill Johnson is about to embark on a nationwide tour in July, promoting her newest album Flirting With Disaster.
The time when Jill Johnson took to the stage in a long, flowing outfit singing the tender ballad Kärleken
Är for Sweden in Birmingham in 1998 seems ages ago. The romantic, dreamy wardrobe has been thrown out
in favour of a much tougher, rockier image favouring jeans and boots which seemingly suits her better. Since her breakthrough in 1998, Johnson has gone on to become a household name in her native Sweden and gained even bigger popularity among fans following her second attempt to sing for her country in Melodifestivalen 2003 with Crazy in Love, when she ended up finishing fourth.
Despite a lukewarm critical reception, the release of the Flirting With Disaster album in October last year, turned out to be a career highlight, obviously striking a chord with fans and giving Johnson her first ever number one album.
Johnson kicks off her Flirting With Disaster – Summer Set tour this coming Friday, and promises fans and concertgoers an altogether tougher, rockier sound, with the artist playing a much bigger part in the creative process of the tour and even playing the electric guitar on stage for the first time ever! The tour is highly anticpated, as the singer rarely fails to dissappoint live, and the following places are lucky enough to receive a visit from Ms Johnson and her entourage this summer:
06.7 – Oskarshamn, Latitud 57
13.7 – Docksta, Skulefestivalen
15.7 – Freluga, Trädgårdsscen
25.7 – Falkenberg, Stålboms konditori
03.8 – Arvika, Arvika Hamnfest
04.8 – Norge, Havnnes Kulturfestival
10.8 – Smögen, Havsvallen
17.8 – Malmö, Malmöfestivalen
24.8 – Eksjö, Eksjö Stadsfest
25.8 – Södertälje, Kringelfestivalen
30.8 – Uppsala, Flustrets Trädgård
31.8 – Västerås, Summer in the City
In the video below you can see Jill Johnson performing the title track of the album following its release late last year.