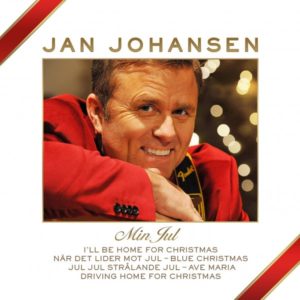 A new album containg 12 Christmas songs has recently been released from Jan Johansen, who represented Sweden at the 1995 Eurovision Song Contest. The album contains a mix between Swedish and English songs – and as a bonus also Jan's Eurovision entry in a different version.
Last year Jan Johansen toured around Sweden on a Christmas tour. That tour has now resulted in an album with 12 songs for the upcoming Holiday. Just as with the tour, then the album is a mix of Swedish and well known international hits like Driving Home For Christmas and I'll Be Home For Christmas. 
12 songs on the album, but only 11 of them are actual Christmas songs. Song nr. 8 Se På Mig is the title of Jan's Eurovision entry, and indeed it is also the same song, or rather, almost the same one as it sounds a bit different. This new version fits as a good background music for Christmas, for sitting in front of a fire, sipping hot chocolate. The orchestration captures the feeling of walking into a cold winter wind with a smooth and inspirational arrangement. His deep raspy voice from the original version becomes more sweet delivering a surprising amount of emotional intensity. It is so delightful and magnetic that it gets stuck in your head, but it does not replace the original version, just as it still appears a bit odd to think of that song as a Chrimstas song, which you have to, having it on this album. 
Track list:
1. Vit Jul
2. Driving Home For Christmas
3. Jul Jul Strålande Jul
4. Var Inte Rädd
5. I'll Be Home For Christmas
6. Christmas Song
7. Sista Andetaget
8. Se På Mig
9. Sista Söndagen I Advent
10. Blue Christmas
11. Have Yourself A Merry Little Christmas
12. Ave Maria 
You might also want to read: