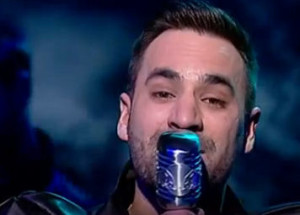 Tonight, Hungary became the latest country to choose it's entry for Baku. The eight songs that had qualified from the two semi-finals took to the stage once again. After a public vote, the in-house jury chose Compact Disco and their song, Sound of Our Hearts.
The format of the final was slightly different to the semi-finals. There, the jury chose three of the qualifiers and the public chose the fourth. Tonight, the winner would be decided by the jury after the public had chosen which four songs the jury would be able to choose from.
The running order of the final was:
The Királys – Untried
Tibi Gyurcsik – Back In Place
Gabi Tóth – Please Don't Say Me
Compact Disco – Sound Of Our Hearts
Juli Fábián & Zoohacker – Like A Child
Caramel – Vertigo (Vízió)
Nika – This Love
Gábor Heincz – Learning To Let Go
After an interval act which included a cover of the 1975 winner, Teach-In's Ding-a-Dong, the 'superfinalists' were announced. The four songs that the jury would pick the winner from were:
The Kiralys – Untried
Caramel – Vertigo
Compact Disco – Sound Of Our Hearts
Gábor Heincz – Learning To Let Go
Each of the jury members voted for the song they felt should represent Hunagy in May:
Jenő Csiszár (presenter) – Compact Disco
Philip Rákay (M1 Programme Director) – Caramel
Kati Wolf (ESC 2011 Hungarian representative) – Compact Disco
Viktor Rakonczai (Composer) – Gábor Heincz
So, Compact Disco will go to Baku seeking Hungary's first win since they started participating in the Eurovision Song Contest in 1994. Their song, Sound of Our Hearts, is reminiscent of 80's synth-pop, sounding like Gary Numan's Are Friends Electric in places.