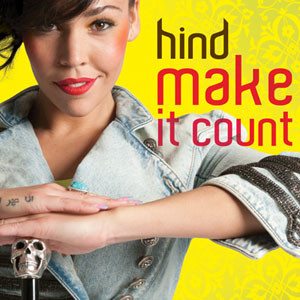 Dutch songstress Hind is back in business with her brand spanking now tune Make it Count. The release of her newest single marks the return of the artist and is her first release in three years since the single Stay came out in 2010.
Things have been pretty quiet surrounding the exotic lovely that is Hind since her participation at Eurovision in 2008 with Your Heart Belongs To Me. Unfortunately, she didn't manage to make it to the final in Belgrade, but her entry gave her a sizeable hit. Three more singles followed, the last release, Stay in 2010, before the talented singer seemingly sank into oblivion. She made a brief reappearance as judge on the panel that took part in the Nationaal Songfestival in 2011, when the entry Je Vecht Nooit Alleen was chosen for the 3JS to take to Düsseldorf.
But now, Hind Laroussi is back, and judging by the cover of her single, it doesn't look as if a day has passed. Make It Count is the lead single to appear from what wil be her fourth studio offering and sees the Dutch-Moroccan artist take her music in a new direction. Her trademark arabian influences are still present of course, combined with a fresh and vibrant new sound. The single deals with only having one shot at life, having ambitions and making your dreams come true, hence the title Make It Count.
The single is a result of a collaboration between Hind and Dutch producer Tease, and the singer told media through her management that the recording process was much more intense than usual: "As with everything I do, I want, just like any other artist probably, the right balance between my own sound and character and the vision of the producer. Especially when making choices to combine certain trends and instruments, I.ve done my utmost to find the perfect combination. For 'Make It Count' I spent a lot of time in the studio experimenting a lot. The result is a song which has a contemporary, fresh sound featuring a solo with the classical Arabic instrument, the Ud. That mix is kind of my trademark sound, as a musician."
The single has also been remixed by DJ and producer Leroy Styles, who in turn is adding his own dimension to the sound with the introduction of house beats and a decidely clubby sound. He has previosuly worked with the likes of Chris Brown, and he is just one of six writers and producers who Hind is working with on her next studio album. The single was released both digitally and physically yesterday and the brand new video clip can be seen below.
You might also like to read: