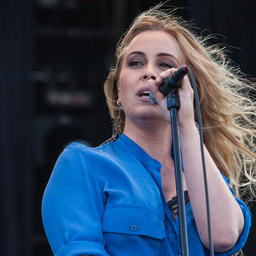 Comments made by Tore Johansson, producer of Anouk's forthcoming album caused great unease last week when he publicly commented that he didn't think the Dutch entry would amount to much in Malmö. Anouk, outspoken as ever defended the song and an excerpt of the song was performed for thr first time yesterday.
As reported in a number of media last week, Anouk has been busy recording material for her forthcoming album, Sad Singalong Songs in Malmö recently, and producer Tore Johansson made comments that created a great deal of confusion and not least angered many fans of the singer. He spoke to the Swedish newspaper Sydsvenskan, saying that the song Anouk was to represent the Netherlands with in Malmö, Birds Falling Down "didn't stand a chance. This is an album that we've been working on for two years and the songs weren't composed with Eurovision in mind. It was Anouk who stood for all the impetus". Johansson has previously worked with the likes of Suede, The Cardigans and Tom Jones, so it would seem he knows what he is talking about.
Not so, Anouk retorted later last week in the press. She made a statement on her website, correcting the title of the song to simply Birds, as well as making the following statement: "Tore considers the song to be too good for Eurovision. Is that even possible? Have faith, young Skywalker, the force is strong in this case." Anouk herself commented on Birds, saying "It's not exactly a rock'n'roll number, but a ballad, exactly the opposite of what people are expecting."
Dutch broadcaster TROS has confirmed that a full version of the song will be published online by the 11th of March. Anouk gave a tantalizing taster to ther fans of the much discussed Dutch entry, when she performed almost a minute's excerpt of the song while taking part in a charity event in Utrecht yesterday evening. Does Johansson know what he's talking about or will Anouk prove him wrong and take Netherlands to the final for the first time in nine years? Listen to the excerpt below and make up your own mind.
The last time the Netherlands were present in a Eurovision final was in 2004 when the duo Re-Union performed the acoustic ballad Without You, achieving a twentieth place. Last year's entrant Joan Franka only came fifteenth in her semi final with the country entry You And Me.