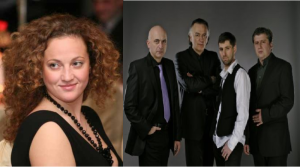 Georgia is the second country from the Caucasus region to confirm its entrant for the 2014 Eurovision Song Contest, following an announcement from Armenia on New Year's Eve. The Shin and Mariko Ebralidze are to follow in the footsteps of Nodi Tatishvili and Sophie Gelovani to become Georgia's seventh entrant at the contest.
Since their debut in 2007 with Sopho and Visionary Dream, state broadcaster GPB had organised a national final every year. Their results have met with moderate success, with Georgia often finishing just outside of the top ten. GPB decided to take a fresh approach last year and scrapped a national final in favour of an internal selection. They brought in the big guns, comissioning Swedish composer Thomas G:son, composer of Sweden's winning song Euphoria, to write and compose their 2013 entry Waterfall, which finished in a rather disappointing 15th place.
The names The Shin and Mariko Ebralidze may very well be unknown for the majority of us, but The Shin actually comprises some of Georgia's most experienced musicians. The line up consists of Zaza Miminoshvili on guitar, Aleksandre Chumburidze on the doli and dancer, Mamuka Gaganidze on vocals and percussion and Zurab J. Gagnidze on bass and vocals. The quartet have been going strong since the late nineties with Gaganidze joining in 2002. Their music is described as a heady mix of jazz scat, funk and fusion. The four will be joined on stage in Copenhagen by singer Mariko Ebralidze, who despite her young appearance, is quite experienced, having performed with the Tbilisi Big Band.
Their entry is still to be revealed – stay tuned for more details. In the meantime, check out the videos below to see both The Shin and Mariko Ebralidze performing live.
Georgia at the Eurovision Song Contest:
Georgia made its debut at the 2007 Eurovision Song Contest with the rather avant garde and innovative Visionary Dream performed by Sopho, ending twelfth. They went on to better their result the following year with the ballad of hope Peace Will Come performed by the blind singer Diana Gurtskaya, finishing eleventh. Their entry in 2009 was submerged in scandal, following the selection of Stefane and 3G with their entry We Don't Wanna Put In. This was perceived by many as a provocation against president Vladimir Putin and host country Russia, which had experienced armed conflict with Georgia that same year. Eurovision organisers EBU demanded that the the lyrics of the entry be changed, as participation rules specifically prohibit any form for political reference. Georgian GPB refused to back down and withdrew from the contest shortly after. The following two years, Georgia fared slightly better, managing two consecutive top ten placings with Sopho Nizharadze (9th with Shine) and Eldrine (9th with One More Day) in 2010 and 2011 respectively. 2012 was the first and only time thus far that Georgia has failed to qualify for the contest, when Anri Jokhadze narrowly missed the final with his entry I'm A Joker, which finished 14th in its semi final.
You might also like to read: