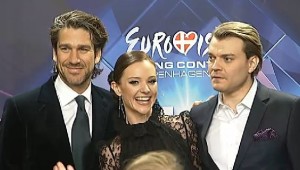 Danish broadcaster, DR, today announced the hosts of the 2014 Eurovision Song Contest. Lise Rønne, Nikolaj Koppel and Pilou Asbæk will guide the audience in the hall as well as the millions of TV viewers across Europe through the three shows in May.
It was waited with excitement as well as some nervousness, the host announcement that finally came today. The most talked about hosts of the contest in newer years, if not ever, was the ones from last time Denmark had the contest. Søren Pilmark and Natasja Crone was refered to as Dr. Death and The Toothfairy and fans from all over Europe claim to still have nightmares about the rhimes, which was carried out throughout the show in 2001.
Danish broadcaster, DR, quite quickly after Emmelie de Forest's victory in May this year, went out promising that the rhimes would not be repeated for the 2014 contest. But who will be hosting it? Today came the answer.
The hosts for the 2014 Eurovision Song Contest held in Copenhagen, Denmark are:
Pilou Asbæk is a 31 year old Danish achtor. He is educated Theatre acthor from 2008 and his biggest role to date was in the internationally well known Danish political TV series "Borgen", which span over 3 seasons, was sold to most of the world and also awarded with several TV awards. In Borgen, Pilou playes the role of Kasper Juul, Communication Cheif for the Prmine Minister, and later he becomes a TV journalist hosting his own political TV programme.
Lise Rønne, DR host with experience from Dansk Melodi Grand Prix and X-factor. She hosted the Danish final in 2011 and 2013. 
Nikolaj Koppel, pianist who later became music chief in Tivoli when he in 2006 decided to take a break from the concerttour life. He has also been hosting TV programmes on DR. 
They were presented at a press conference held at Odd Fellow Palæet at 11:00 this morning.  
Already six months ago Danish media reported that actor, model, and TV host Christiane Schaumburg-Müller had been offered the job. Whether or not that is true, we don't know. Other names which have been highly rumoured are Tim Schou from A Friend In London and Sidse Babett Knudsen, the leading role from Borgen.
The upcoming contest will take place with the two semi-finals on the 6th and 8th of May, with the final being two days later, Saturday the 10th. Rehearsals and press conferences are expected to start aproximately two weeks before the final show and EuroVisionary will of course guide you through it all.
You might also like to read: