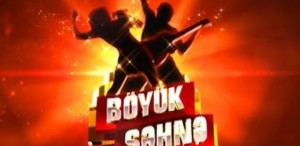 This year Azerbaijan is deciding its entrant via another lengthy talent show called Böyük Səhnə. The episodes from auditions were premiered last week and last week we were able to meet with the fourteen finalists.
Last year the show Böyük Səhnə was broadcast by another Azeri broadcaster, ATV. More than half of the Milli Seçim Turu participants also participated in this show where the last representative Ferid Memmedov shone. This year the broadcasting rights of the show have been acquired by İçtimai TV who have previously confirmed that the show will be their means for selecting an entry for the 2014 Eurovision Song Contest. Böyük Səhnə starts with 14 participants and will continue over a 7 week period.
Shows from Monday to Friday were introduced to the revamped national selection format, featuring clips of pre-auditions. Salef Bağırov, Gülçöhre Şafiyeva, Tünzale Qehreman, İlhame Qasimova and Sevda Elekberzade were responsible for choosing finalists for the show. The first live show was held with Hüsniye Maharammova and Tural Esedov hosting the event. We were able to meet with the fourteen participants who gave their all alongside some globally known acts. 
The participants:
Xana Hasanova: The first finalist of the show is an experienced performer from last year's Eurovision Song Contest selections Milli Seçim Turu. Xana also takes vocal lessons in the university. Her favourite genres are R'n'b and hip hop and she announces that she is currently working on her debut album.
The Wave Wave: Three musical school girls, Diana, Nigar and Humar came together to share their talent with the world. They say their favourite genre is pop as they admire Michael Jackson.
Samire Efendiyeva: This is not Samire's first experience in the Azeri music industry as she participated in another talent show Yeni Ulduz's 9th edition. As another vocal student contestant she says her goal is to win the competition and take part in the Eurovision Song Contest 2014.
Rilaya: Rilaya is making quite the crossover from rhythmic gymnastics to the equally rhythmic music industry. She is well known by viewers as she participated in the last edition of Böyük Səhnə and Milli Seçim Turu last year where she qualified to the semifinal and to the final of these shows. She says she her ultimate achievement would be to represent Azerbaijan at the Eurovision Song Contest.
Lala Sultan: Lala Sultan might seem very young and unexperienced but don't let that deceive you. She took part in Yeni Ulduz Contest and Young Singers, the International Contest in St. Petersburg. Beside her studies in music theory, Lala Sultan is also interested in dance and acrobatics. Her passion is winning the Böyük Səhnə, she says.
Hülya Ibadova: Hülya is a violinist, a member of a music band and also a representative of a medical company. Her biggest goal is to compete in the contest and to get the rbig break, she has stated earlier.
Fuad Esadov: Fuad might be known in Ukraine as a participant in X Factor. He is currently taking vocal lessons but his occupation is a professional chef. His biggest achievement would be winning Böyük Səhnə 2014, he says.
Erkin Osmanli: You may remember Erkin from the Azeri selection in 2011 but his talent isn't only singing and strumming a guitar. He also likes to take part in dance projects, composing songs and writing lyrics. He wants to open up to the rest of Europe with his charmful voice.
Elton İbrahimov: Elton's profession is music as he graduated from a school of music. He was runner up in the Russian Light Your Star Contest in 2011 but we remember him from 2011 Milli Seçim Turu as he was one of the finalist there. Elton says his biggest ambition is to showcase his talents to everyone. 
Dilara Kazımova: Dilara is an opera singer with a powerful voice and she has graduated from both the Music Academy and Art Gymnasia. She was one of the finalists in the first edition of the Azeri selections in 2008 and also in 2010. At the same time she won the New Wave Contest. She is determined to win Böyük Səhnə this year.
Azad Shabanov: Azad is a continous candidate in the Azeri selections as he has taken part in the last three editions – 2011, 2012 and 2013 Milli Seçim Turu. He wants to add a win to his career by cominf first in Böyük Səhnə 2014.
Aydin Eyvahzadeh: Apart from being a football fan, Aydin is also interested in telecominications and politics and he has taken part in the European Youth Parliament, but is currently working for a telecommunications company. His favourite music genres are pop & indie rock and he wants to leave an imprint in the history of Eurovision, he says.
Aysha Qalim: A television presenter in Kepez TV, Aysha is trying for a second chance at the national selections as she pariticpated in Milli Seçim Turu last year. She says she can't wait to be on the stage and show how to put on a good stage show.
Safa Eldar: Safa is only in his first year at the college, making him one of the youngest contestants in this year's preselection. He says his only idol is himself and he is dreams of becoming the king of pop music someday.
Click on the video below to see last year's Azeri representatives, Ferid Memmedov's performance recorded using Eurovisionary's ground-breaking 3D technology. It can easily be turned off in the player, giving you a standard 2D image. If you do not yet have a pair of suitable glasses we recommend getting hold of EuroVisionary's 3D glasses. 
You might also want to read: