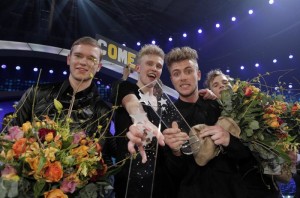 A Friend In London had a busy summer after coming fifth at the Eurovision Song Contest in May. Now they are returning to the Düsseldorf area for a performance Saturday, but Friday evening and Sunday afternoon they are busy with other things in Denmark – which among others include the premiere of the video written for – and about – their online friends.
Friday eveing leadsinger Tim Shou will – as the previous two weeks – take part in the live DR TV programme Skjulte Stjerner (Hidden Stars) where he sing together with 13 year old Thomas, the son of Gry, who represented Denmark at the 1983 Eurovision Song Contest with the song Kloden Drejer. 
In the first two episodes this new duo has recieved a lot of positive feedback from the TV viewers bringing them among the absolute top candidates to win the entire show. In first show they sang Katy Perry's Fireworks and in the second show they mixed The Time Of My Life from Dirty Dancing with Justin Bieber's Baby.
Saturday the band will perform in Bochum, Germany. This city is placed only 50 km from Düsseldorf, bringing them close to the city where this year's Eurovision Song Contest was held and where they accieved a 5th position with New Tomorrow. The song has reached gold status with 15,000 singles sold and the evedince for this, the gold record will be handed out to the band Sunday afternoon in the Copenhagen shopping mall Fields.
In Fields A Friend In London will also premiere the video of their second single Calling A Friend. This song is dedicated to their fans on Facebook and Twitter and several of these fans also take part in the video as the band used their Facebook page to invite everyone to come and make this video with them. The band will also give a little performance in the shopping mall, which includes Thomas, Tim's duet partner, as a special guest. After the performance they will take their time to sign autographs and meet the fans, which means so much to them, that they wrote a song to them.
The debut album from A Friend In London is expected to hit the stores before Christmas this year. Below you can watch the band entertain at a press conference at the 2012 Eurovision Song Contest.