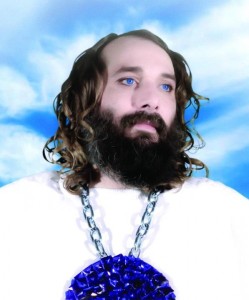 The French singer and songwriter has built a reputation for himself as one of the best acts in Europe and with his next amazing tour he aims to consolidate his reputation among European audiences. He will perform in nine countries as part of a tour promoting his new cult-inspired album My God Is Blue.
Eccentric singer Sebastien Tellier, who was the French representative at the 2008 Eurovision Song Contest with Divine, has announced the dates of his European tour that kicks off on the 21st of September in Athens, Greece and which will conclude to the end of the year.
After reinventing himself with his previous albums Politics and Sexuality, he has done it again with My God Is Blue, his latest album which was released in April. With it he has presented a spiritual and psychedelic dimension to his musical style that has been acclaimed for its originality and regarded as one of the best live acts in Europe.
Also known as the king of electronica, his songs are loaded with retro symbolism and the whole album evokes a sumptuous and provocative world that surely will be present at his live concerts.
He will perform in all major French cities and he will also visit other countries such as Spain, Switzerland, Italy, Germany, Belgium, the Netherlands, Luxembourg and the United Kingdom.
Below you can find his full tour schedule:
21.09 – Bios – Athens, Greece
28.09 – Festival Elektricity – Reims, France
17.10 – Transbordeur – Lyon, France
18.10 – Espace Julien – Marseille, France
19.10 – Nancy Jazz Festival L'Autre Canal – Nancy, France
20.10 – Fantastic Festival – Lille, France
23.10 – Rocher De Palmer – Cenan, France
24.10 – Coopérative De Mai – Clermont-Ferrand, France
25.10 – Le Bikini – Toulouse, France
26.10 – Stereolux – Nantes, France
30.10 – La Carene – Brest, France
01.11 – Pitchfork Festival La Villette – Paris, France
02.11 – Théâtre Lino Ventura – Nice, France
03.11 – Le Rockstore – Montpellier, France
09.11 – Apolo – Barcelona, Spain
10.11 – But – Madrid, Spain
13.11 – D-Club – Lusanne, Switzerland
14.11 – Kaufleuten – Zurich, Switzerland
21.11 – Mousonturm – Frankfurt, Germany
23.11 – Gretchen – Berlin, Germany
24.11 – Audio Invasion – Leipzig, Germany
25.11 – Kampnagel – Hamburg, Germany
26.11 – Cirque Royal – Brussels, Belgium
28.11 – Melkweb – Amsterdam, the Netherlands
01.12 – L'Atelier – Luxembourg
03.12 – Casino de Paris – Paris, France
05.12 – Sheperd's Bush Empire – London, United Kingdom
06.12 – Coalition – Brighton, United Kingdom
07.12 – Cockpit -Leeds, United Kingdom
08.12 – HMV Institute – Birmingham, United Kingdom
09.12 – The Arches – Glasgow, United Kingdom
10.12 – The Fleece – Bristol, United Kingdom