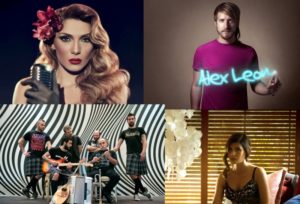 While the Greek broadaster already announced the participants for the national final a few weeks ago, we had to wait until today to listen to the 4 songs. They will fight against each other for the Greek Eurovision ticket on the 18th of February.
Today MAD TV (music channel) shared the four competing songs for "Ellinikos Telikos 2013".
The participants are:
Thomaï Apergi – One Last Kiss
Alex Leon & Giorgina – Angel
Aggeliki Iliadi – Χίλιες Και Μία Νύχτες
Koza Mostra & Agathonas Iakovides – Alcohol is Free
Meanwhile, ERT (Hellenic Broadcasting Corporation) announced that the hosts for the 2013 edition of Ellinikos Telikos will be Despina Vandi and Giorgos Kapoutzidis. The 34th Greek Eurovision entry will be selected on 18th of February at Gazi Music Hall, and the show will be broadcast live, by ET1 at 21.00 (Eastern European Time).
You might also want to read:
Below you can check out the 4 Greek national final entries: