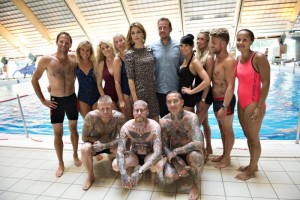 When Danish TV3 tonight kick off for the first edition of their version of a new reality show it will include several participants known from the Eurovision Song Contest and the national final, Dansk Melodi Grand Prix. They will challenge themselves when showing off diving skills.
The programme titled "Stjerner på vippen" (Stars on the springboard) is the first one of its kind in Denmark, but we already saw it in the Netherlands last year under the title "Sterren springen op Zaterdag". Back then it also featured several Eurovision names, both as host and as participants. The Dutch edition was hosted by their 1988 participant Gerard Joling and among the particpants we found their 1989 participant Justine Pelmelay just as Ralf Mackenbach, the 2009 Junior Eurovision Song Contest winner also took part. 
Now it is time for Denmark to start their first edition of the reality programme where well known names compete on diving skills. And just like in the Netherlands, the list of participants includes a few interesting Eurovision names – and again, both as hosts as well as participants.
The Danish edition will be hosted by Sofie Lassen-Kahlke and Adam Duvå Hall. Sofie co-hosted the Danish final, Dansk Melodi Grand Prix, here in 2013 and Adam co-hosted it three years in a row from 2006 to 2008 and has also been the Danish Eurovision Song Contest commentator in 2006 and 2007. 
Among the list of participants we find A Friend In London's leadsinger Tim Schou. The band represented Denmark in 2011 finishing fifth with the song New Tomorrow. Another interesting name is Kat Stephie, who as a part of the female trio Sukkerchok has participated in the Danish final in 2009 and 2010. 
The 16 participants in the programme are: 
Model Oliver Bjerrehus
Actors Joachim Knop and Carla Mickelborg
Comedians Amin Jensen and Anders Bircow 
Handball players Josephine Touray and Christina Krogshede
Dancers Claudia Rex and Karina Frimodt 
Boxer Patrick Nielsen
Racing driver Casper Elgaard
Morten and Jonas from the reality programme Tatoo Salonen  
Countess Josephine of Rosenborg 
Singers Kat Stephie and Tim Schou
Danish TV3 kick off for the programme Monday the 19th of August at 20:00. Each Monday a new episode, with a re-run the Sunday after at 19.25.
You might also want to read: