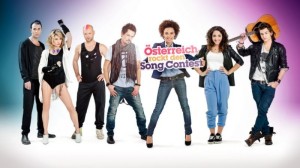 Austria's national broadcaster ORF announced that five acts will compete to represent their country at the Eurovision Song Contest in Malmö 2013. On February 15th the national final Österreich rockt den Song Contest will be staged in Vienna with a variety of different music styles. The winner will be chosen by televoting.
After coming last in the first semi-final of the 2012 Eurovision Song Contest in Baku Austria wants to avoid a new defeat. According to the national broadcaster ORF five acts will compete in the national final Österreich rockt den Song Contest (Austria rocks the Song Contest) on February 15th.
ORF director Kathrin Zechner says that they aim to present demanding and international competitive Austrian artists who do not have to fear a comparison on a high international level. Due to the reduction to only five competitors Austria wants to focus on searching special talents with unique voices.
Each participant stands for a different musical style. In cooperation with music producer Thomas Rabitsch these acts were chosen:
Yela (real name Daniela Bauer) is a 31-year-old woman who lives in New York and studied at the Berklee College of Music in Boston. She is an all-round talent with a great voice and loves soul music.
Elija is 21 years old and currently lives in Vienna. His passion is rock music.
The Bandaloop was founded in 2010 and consists of the three members Barca Baxant (34), Justin Case (32) and Mike Lightning (27). Their musical genre is electro pop.
Natália Kelly is 18 years old. She was born in the USA, but grew up in Lower Austria. She has a powerful RnB voice and is the popdiva among the finalists.
Falco Luneau is 28 years old and currently lives in the Netherlands. He took part in the third season of the casting show Starmania and has already worked together with Tony Cornelissen who is the producer of the successful German band Cascada.
You might also want to read: