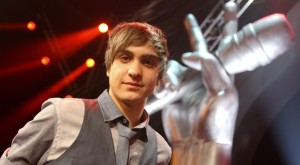 This year's Belgian entry will be chosen through a live radio show where Roberto Bellarosa will be singing the three candidate songs. Today, the Belgian broadcaster RTBF together with the label Sony Music Belgium, have announced the song titles.
This Sunday, December 16th, from 10:30 to 13:00 CET, on Vivacité radio will be aired the national selection for the song that the Belgian representative at the 2013 Eurovision Song Contest, Roberto Bellarosa, will perform in Malmö.
It will be hosted by Jean-Louis Lahaye and it will involve as guests some of the artists who participated at the talent show The Voice of Belgium which Roberto won. They will be singing some of the most popular songs of the Eurovision Song Contest such as Waterloo by Abba, the unforgettable Volare by Domenico Modugno, Hold Me Now by Johnny Logan or Poupée De Cire Poupée De Son by France Gall.
Today have been announced the titles of the three candidate songs which have managed to qualify for the Belgian national final and they are:
-Be Heroes
-Love Kills
-Reste Toi
In the coming days will be revealed more details about the writers and composers of each of the songs. So far, we already know one of the songs, Reste Toi, which is included in Roberto's debut album, Ma Voie, released three months ago.
Listeners will be able to vote for their favourite song among the three candidates solely during the broadcast. The winning song will be the one that receives the most votes from the audience and a professional jury.
In the video below you can listen to Roberto Bellarosa singing Reste Toi.
You might also want to read: