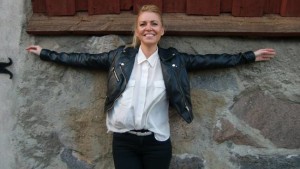 Unknown artist Elin Petersson was the clear winner of the jury with her entry Island, sweeping all competition aside. She was therefore awarded the second spot in the line up for next year's Melodifestivalen, joining Terese Fredenwall, winner of the Svensktoppen Nästa comptetition.
SVT decided to scrap the use of wild cards in next year's national selection, but still wanted to include unknown and up and up and coming talents in next year's contest. It was therefore decided that two of the thirty two spots would be reserved, awarded to the Svensktoppen Nästa contest and the Allmänhetens Tävling or public contest. 
As reported earlier, Therese Fredenwall was the first jubilant artist to nab one of the spots back at the end of August, with her song yet to be announced. Therese will be joined by comparatively unknown Elin Petersson with her entry Island, confirmed by broadcaster SVT earlier this week. The idea behind the public contest was to provide a platform for amateur songwriters who have never previously had music published, giving them the opportunity to take part at Melodifestivalen. The winner of the public contest should only actually be allowed to participate as songwriter, but Petersson's victory was so convincing that Björkman has publicly invited her to perform the winning entry herself. Speaking to SVT, Björkman commented on Island, saying "Given that she was the runaway winner of the jury's vote, noone should really perform the entry except Elin herself. The song and her artistic interpretation go hand in hand." Official confirmation of Petersson's participation in a performing capacity is still pending confirmation. The full results of the jury vote were as follows:
1. Island
2. A Game Called Reality
3. Today
4. Déjà Vu
5. Ding i da
The remaining entries in next year's Melodifestivalen are to be presented within a matter of weeks, with speculation rife in the Swedish press. A few names have already been mentioned by a number of sources, with heavyweight artists such as Lisa Nilsson and veteran Tommy Körberg among them. Norwegian press have already confirmed that former Melodi Grand Prix participant Tone Damli Aaberge has submitted an entry to the Swedish selection. Both Swedish and Norwegian press also ran reports yesterday of another familiar name in connection with next year's contest, namely Camilla Henemark or La Camilla as she was known at the peak of her career as one third of the trio Army Of Lovers. Lately however, she has been more assosciated with scandal, when claims of her intimate relations with the king of Sweden surfaced. Henemark has reportedly submitted more than one entry to Melodifestivalen, and certain journalists and people in the know are touting her as an ideal candidate for Melodifestivalen, bringing plenty of glmaour and drama with her to the stage. Henemark will however just have to sit it out and wait along with all of the other candidates before finding out her fate over the coming few weeks. One thing is certain : interest for Melodifestivalen and Eurovision has never been bigger in Sweden.
You might also want to read:
Melodifestivalen tickets on sale from 25th of October
Loreen with simultaneous single release
2549 songs submitted to Melodifestivalen – lowest number for years