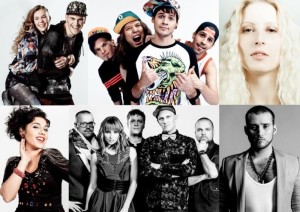 Tonight viewers were given a glimpse of the first six candidates in contention for a spot in the Finnish UMK final on the 1st of February. All acts were given the opportunity to take to the stage and strut their stuff for the four jurors in the studio. Would the selected acts be able to prove themselves worthy of making it this far in UMK?
Proceedings for this, the first of three introductory shows to be broadcast by Finnish broadcaster YLE, were led by hosts Ile Uusivuori and Anne Lainto from the YLE studios. A vibrant couple, Ile sporting a mohican hairdo and a striped shirt in various shades of grey, Anne sporting a black and white tiger patterned jumpsuit. They were very slick and professional with a no nonsense approach, quickly getting down to business. Joining the hosts in the studio are a panel of jurors, making a return from last year's selection: Tomi Saarinen, Aija Puurtinen, Toni Wirtanen and Redrama. All four won't be grading the acts just yet – their purpose for the evening was to give all six acts helpful hints and feedback on how they came across on stage and how their performances could be further improved.
Would nerves get the better of the artists on show tonight? Would the jurors manage to agree or would opinion be divided as to who was hot and who definitely was not? EuroVisionary tuned in to check the pulse on the first Finnish introduction show to see if there were any clear favourites among the first six acts out.
The show
1. Jasmin Michaela – Kertakäyttösydän (Throwaway Heart)
Jasmin Michaela was the first into the lions' lair, which must be a nerve wracking experience. Her outfit for the evening was black leggings topped with a long sleeved black top, draped in all manner of thin metallic chains. Flanked by three female backing singers all similarly dressed in black, Jasmin Michaela delivered her effort Kertakäyttösydän with great gusto. The sound can be best described as a pulsating dance/electronica number with clear ethnic influences. Vocally she was pitch perfect, her voice perfectly suited to those of her backing singers and she appeared to be very much at ease in front of the camera. The judges' heads could be seen nodding appreciatively during the performance, but the melody did start to become slightly repetitive towards the end. Not being fluent in Finnish didn't seem to be a drawback, as the jurors were clearly impressed with the dynamic vocals.
2. Clarissa feat. Josh Standing – Top of the World 
Clarissa was next out to prove her worth helped along by a youg man going by the name of Josh Standing. She came across all waif like, her long blonde hair set off against a black shoulderless strappy top paired with dark grey trousers. She stood alone on stage as her euro trance entry began, with Josh appearing a short while later from the side of the stage. His outfit clashed slightly with hers, with him wearing a white and black chequered shirt that was far from easy on the eye. Their effort was extremely contemporary, with a slight whiff of Euphoria about it. Josh's voice was surprisingly soulful, extremely well matched to Clarissa's.The chemistry between the two of them was obvious, if a little over performed. A strong, vibrant, easy to follow hook as well as a thumping drum bridge definitely made this one memorable and it's definitely one of the more commercially appealing songs on show tonight. The jurors appeared to be suitably bowled over by the energy of the performance.
3. Madcraft – Shining Bright
Four youngish guys in the form of Madcraft were the third act out to impress. Their choice of outfit was in keeping with their age, extremely casual, almost skater boy attire, with all sporting t-shirts and jeans/trousers. The lead vocalist gave a brash, credible performance, however his diction was appalling, with the lyrics barely audible. A beefy guitar sound provided by no fewer than three guitars on stage lent a rock light sound to the number, coupled with a catchy woah oh oh chorus. The drummer seemed to fade into the background as the three in front looked as if they were playing air guitar as if their lives depended on it. The whole package came across as youthful, fresh if a bit amateurish. Unable to understand the jurors' comments, it looked as if the band were getting some stick for their outfit ensemble.
4. Hanna Sky – Hope
Hanna Sky was next up and she'd obviously had her hair straightened since her promo photo shoot. She sashayed and shimmied her way through her number in a bizarre creation – a similar black top to what Jasmin Michaela was wearing coupled with a black sheer floor length skirt, topped with a black headband. She was also backed by three backing dancers, two women and one man also complementing her in black. The opening of the number featured sultry Oriental/Middle Eastern rhythms and instruments before a piercing piano came into play giving a slight R'n'B feel. The song swept along, with effective use of a chanted, arm waving chorus. Hanna oozed confidence throughout her performance and was vocally spot on. It was decidedly different. The jurors seemed to be quite muted when giving their feedback, but it didn't seem to be completely negative.
5. Lauri Mikkola – Going down
Lauri Mikkola was the penultimate act to take to the stage with the obvious big ballad of the night. He stood quite motionless dressed in a black suit jacket over a back t-shirt, with black pants and a black bowler hat. His accompanient on stage, 2 female backing singers, 2 guitarists and a drummer were all wearing black garb. His song was a smouldering, soulful number, showcasing his deliciously raspy, warm voice perfectly. If compared to anything Going Down would probably draw comparison to a track by One Republic or he could even be described as a male Adele. The whole sound came across as very atmopsheric, with flawless vocals. This was head and shoulders above the other four entries heard so far. The jurors seemed to lap it up in unison and camera shots showed them clearly spellbound by this polished performance.
6. MAKEA – Painovoima (Gravity)
Last out to attempt to wow the jurors was the five piece pop combo MAKEA. Their lead singer Kadi looked great on camera with her flaming red hair and long sleeveless beige-grey dress. She was flanked by the four other male members of the band; two guitarists, a drummer and a male singer all dressed in casually smart outfits. The opening of Painovoima was actually quite dreary,  but the mood soon lifted as the male singer burst into action with a rather aggressive rap and the tempo was turned up several notches. It made for a bizarre mix; an almost schizophrenic number where it was hard to see whether or not the jurors found it entertaining or whether they where laughing  because they found it ridiculous. A blistering guitar solo following a clever drum build up seemed to satisfy the Finnish penchant for heavy metal with a number that came to an extremely abrupt ending. Hard to say what the jurors gave as feedback, but the stage show screamed car crash.
So, that was that, the Finnish selection well and truly underway with the first of three introductory programmes; the next programme will be broadcast on the 4th of January, allowing us another tantalizing glimpse of the next six candidates in contention. Stay tuned to see just how they fared and if the jurors would eventually regret any of the acts being awarded a place among the final eighteen in Uuden Musiikin Kilapailu.Congratulations YLE, you have managed to equal if not surpass the high standard set by last year's selection.
You might also like to read: