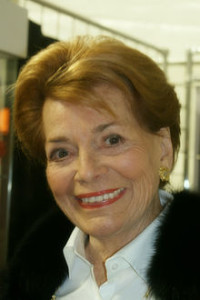 Today Lys Assia is able to celebrate her 90 year birthday looking back on a glorious career. She has earned herself the nickname Eurovision's Grand Dame winning the very first edition of the contest held in 1956. Age is not stopping Lys, who is still going strong.
Lys Assia was born in Switzerland on the 3rd of March 1924, under the name Rosa Mina Schärer, and as such can celebrate her 90 year birthday today. She started her singing career in the 1940's and got her breakthrough in 1954 with the song Oh, Mein Papa. Two years later the Eurovision Song Contest started, and Lys jumped right into it. With winning the first edition of the contest she secured herself a big place in the history books and in the hearts of many fans. 
She represented her country, Switzerland, in 1956, 1957 and 1958, but only won it once, the first year with Refrain. Over the years Lys has appeared as guest of several Eurovision Song Contest editions, and as late as in 2012 and 2013 she even tried a comeback as a participant, as she took part in the national selections in Switzerland with the songs C'était Ma Vie and All In Your Head.
Music has been a big part of Lys Assia's life, but she also found love in her privat life, although borth her marriages ended in a personal tradegy. Her first husband Johann Heinrich Kunz, who she married in 1957 died after just 9 months due to a serious illness. In 1963 she married the Dane Oscar Pedersen who died in a car accident in 1975. The couple lived in Denmark for a period, and Lys Assia is still able to speak a fluent Danish and as such no one should be surprised to see her in Copenhagen in May for the 2014 Eurovision Song Contest, just as she showed up in Malmö, Sweden last year despite being sick just a few days before.
EuroVisionary would like to wish Lys Assia a fantastic birthday. Congratulation, Lys!
You might also like to read: