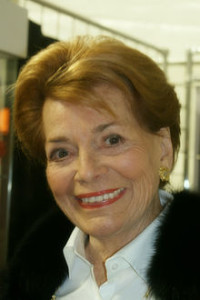 In recent days we have been concerned about Lys Assia's health but now we have some good news as it has been announced that she has made a good recovery and she will be in Malmö this Tuesday.
Four days ago we reported about the sad news. Lys Assia, who was the very first Eurovision winner in 1956 and a living legend of the contest, was in hospital and in serious condition with severe pneumonia which can be very dangerous in people of advanced age so that made us all think that she would not be present at year's Eurovision. In fact, it was officially announced that all her plans had been cancelled and sadly also her presence as guest of honour next week in Malmö.
But it seems that the hundreds of good wishes that all the Eurovision fans have sent to her via social media have been fulfilled and she has managed to recover quickly. Lys Assia knows how worried they all have been and she has sent a message to all of them saying: "Last days have been hard, but dear God gave me a strong sign. Vielen dank for all your kind and supporting messages. I'm happy to be back, see you all in Malmö! Kind regards, Lys".
She will land in Malmö on Tuesday for the first semi-final show and will stay there at least until Saturday to be present in the final where she will enjoy the show as she has done during the last decades.