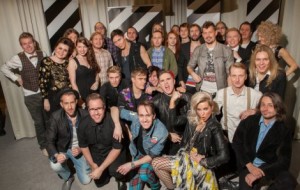 As the Finns near the end of their national selection, Uuden Musiikin Kilpailu, YLE can congratulate themselves on one of the strongest selections for many years. Eurovisionary invites you to take a closer look and to get to know this year's Finnish finalists a little better.
with over 470 entries submitted, broadcaster YLE had quite a task of sorting through all songs and reducing the number of qualifiers to just twelve.  Uuden Musiikin Kilpailu was introduced as a concept for the first time last year, and the Finns are wisely using this format to determine their 2013 entrant too. Traditionally one of the strongholds of rock music in Europe, the Finnish final sees a suprisingly varied line up, including punchy pop songs, brooding ballads and smouldering soul. Here are the songs in contention of Saturday night's title in actual running order: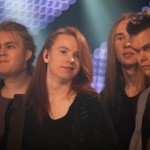 Song 1: Lost – Arion  (M & L: Iivo Kaipainen)
Arion is a quintet hailing from the capital Helsinki and comprising Viljami Holopainen on vocals, Iivo Kaipainen on guitars, Arttu Vauhkonen on keyboards, Gege Velinov on bass and Topias Kupiainen on drums. The band was formed by Vauhkonen and Kupiainen in late 2011, after having played together for a number of years.  When studying music in high school, the two met a new guitarist and composer, Kaipainen, through who mthey also recruited vocalist Holopainen. It was the summer of last year that the band finally got to record their first demo, showing off their trademark sound of melodic metal combined with sounds from the symphony orchestra.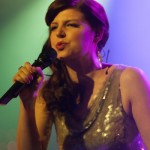 Song 2: He's Not My Man – Elina Orkoneva (M & L: Elina Orkoneva)
Elina Orkoneva was born in 1989 in the Finnish town of Hämmeenlinna. The young artist is extremely passionate about music, viewing it as an important means of expressing herself. Her love of music has led her to collaborate with a variety of different acts such as The 3ees, Local Voices and currently works as a vocal teacher and freelance musician. Orkoneva has an extensive musical background, having studied at the Sibelius Academy and the Helsinki Pop & Jazz Conservatory, besides studying at the Royal Academy of Music in Århus, Denmark for a year.
She has taken a year off and is currently devoting her time to her own music; a mixture of pop music infused with soul, jazz as well as rhythm and blues. She normally works alone on her material which she then presents to her band, the Elina Orkoneva Ensemble who assist with the arrangement of the numbers. The band consists of Henri Mäntylä on piano and keyboards, Joona Hasan on the guitar, Lauri Lähteenkorva on bass, Mikko Arlin on the drums, with both Eveliina Jämsä and Maria Myllymäki providing backing vocals.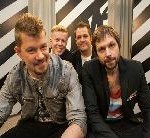 Song 3: Dancing All Around The Universe – Lucy Was Driving (M: Lucy Was Driving; L : Otso Koskelo)
Lucy was Driving are a foursome that hails from Helsinki. Otso Koskelo is the energetic frontman, while Henri Kälvälä contributes on guitar and backing vocals, Juho Sandman on drums and Janne Koukkula is on bass and backing vocals. They have concentrated on rock music, with influences as diverse as Queen, Weezer, The Beatles, Muse and Coldplay. Their music is a sound that effortlessly combines both American punlk pop with stadium rock and everything in between!
They have been going since 2004, and have built up quite a following for themselves in their native Finland with their energetic stageshows, which has also brought them fans overseas. The band have entered numerous competitions over the years, and they gained major exposure when they reached the semi final stages of the MTV's Nordic Unsigned competition. IN 2007, they were voted best band by Noise.fi's readers. The band were named as one of the major acts to watch on the Finnish music scene in 2008. They are signed to the Rock & Science label and made their recording debut in 2010 with the release of their self titled debut album which cracked the Finnish album charts and resulted in the two singles Miss America and Can't Get Enough, getting the band even wider attention.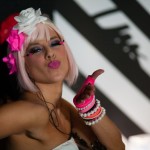 Song 4: Marry Me – Krista Siegfrids (M & L: Krista Siegfrieds / Erik Nyholm / Kristofer Karlsson / Jessika Lundström)
Krista Siegfrieds is the one of the brightest, newest stars on the Finnish music scene. Let's get one thing straight -the gutsy, ambitious singer from Kaskö has major plans for her career, including world domination. The first step is already accomplished, having been signed up to Universal Music, who aim to propel her to international stardom. Her first serious brush with music came when she founded a band, Daisy Jack in 2009. They released a single, Perfect Crime in 2011. Gradually, the band couldn't contain her, so she began to concentrate on her solo career.
Besides music, acting and dancing are also great passions in Krista's life. She first tread the boards in 2009 landing a role in the musical Play Me in Helsinki. Following a two year stint there, she then went on to star in Muskettisoturit (The Three Musketeers) in 2011. As a solo artist, she received her major breakthrough with her participation in the reality competition Voice Of Finland. Her passion for music has taken her all over the Finland and she plans to do shows in neighbouring Sweden and Norway too. Krista is currently working on her debut album.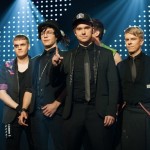 Song 5: Saturday Night Forever – Last Panda  (M & L: Henry Tikkanen / Aapo Immonen)
Last Panda is a band that was founded in the beginning of 2007 and consists of Henry Ossian on vocals and guitar, Harri Knuuti on bass, Matt on lead guitar, Laze on organ and Aapo Väinämö playing the drums. The quintet share a passion for rock music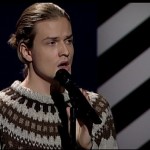 Song 6: We Should Be Through – Mikael Saari (M & L: Mikael Saari)
Mikael Saari was born in Hyvinkää in 1988, but currently resides in Lahti where he is taking music and theatre studies. The singer-songwriter cites indie folk music, Coldplay and Damien Rice among his influences. Besides the theoretical aspect of his musical training, the aspiring artist also performs in numerous bands such as Dictionary Bob and PopUp besides working on his solo career. Apart from performing with bands, Saari has also had the opportunity to tread the boards, landing roles in musical productions such as Hair and Cabaret. He is currently in the process of recording his debut solo album.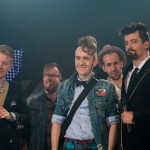 Song 7 : Flags – Great Wide North (M & L: Kaj Kiviniemi ; M: Mika Kiviniemi)
Great Wide North hail from Kokkola and oddly enough consists of four brothers! Kaj provides vocals, as well as playing the guitar and banjo. Mika plasy bass and the harmonica with Petri on drums and percussion and pasi on the electric guitar and mandolin. The Kiviniemi brothers founded the band upon returnig to their hometown in 2009, after having spent time away. They are a band who live by Christian values and who have played music in some form all of their lives as part of their way of worship. The brothers believe that their mission is to promote a lifestyle where one actively serves God, and think that their music is an excellent way of conveying this message.
For the next few years following their return to Kokkola, they used the time wisely, developing their folkrock sound, finding inspiration and composing material. Their first release came at the beginning of 2012 with the release of the single A Change is Gonna Come, which picked up considerable airplay on both Swedish and Finnish Christian radio stations. The band won the Finnish national championship in gospel music last year and are currently playing numerous gigs around Finland while working on new material.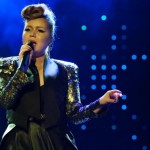 Song 8: Colliding Into You – Diandra (M: Patrick Sarin /Leri Leskinen; L: Sharon Vaughn)
Diandra was born in Hyvinkää, not far from Helsinki in 1994 to a Chilean father and a Finnish mother. She knew she wanted to become a singer from an early age and so it comes as no surprise to learn that she entered her first singing contest, Staraoke, which she won, aged just ten.
Eight years would pass, in which time she got on with her life, and perfected her act. She made her big breakthrough in 2012, when she took part in the Finnish version of Idols. She won the series, and was snapped up and offered a recording contract by Universal Music. Colliding Into You is her fourth single, and will hopefully be as successful as her album released last year, Outta My Head, which sold to gold status in Finland (10,000 units). This is Diandra's first time in the Finnish national selection. 
You might also want to read: